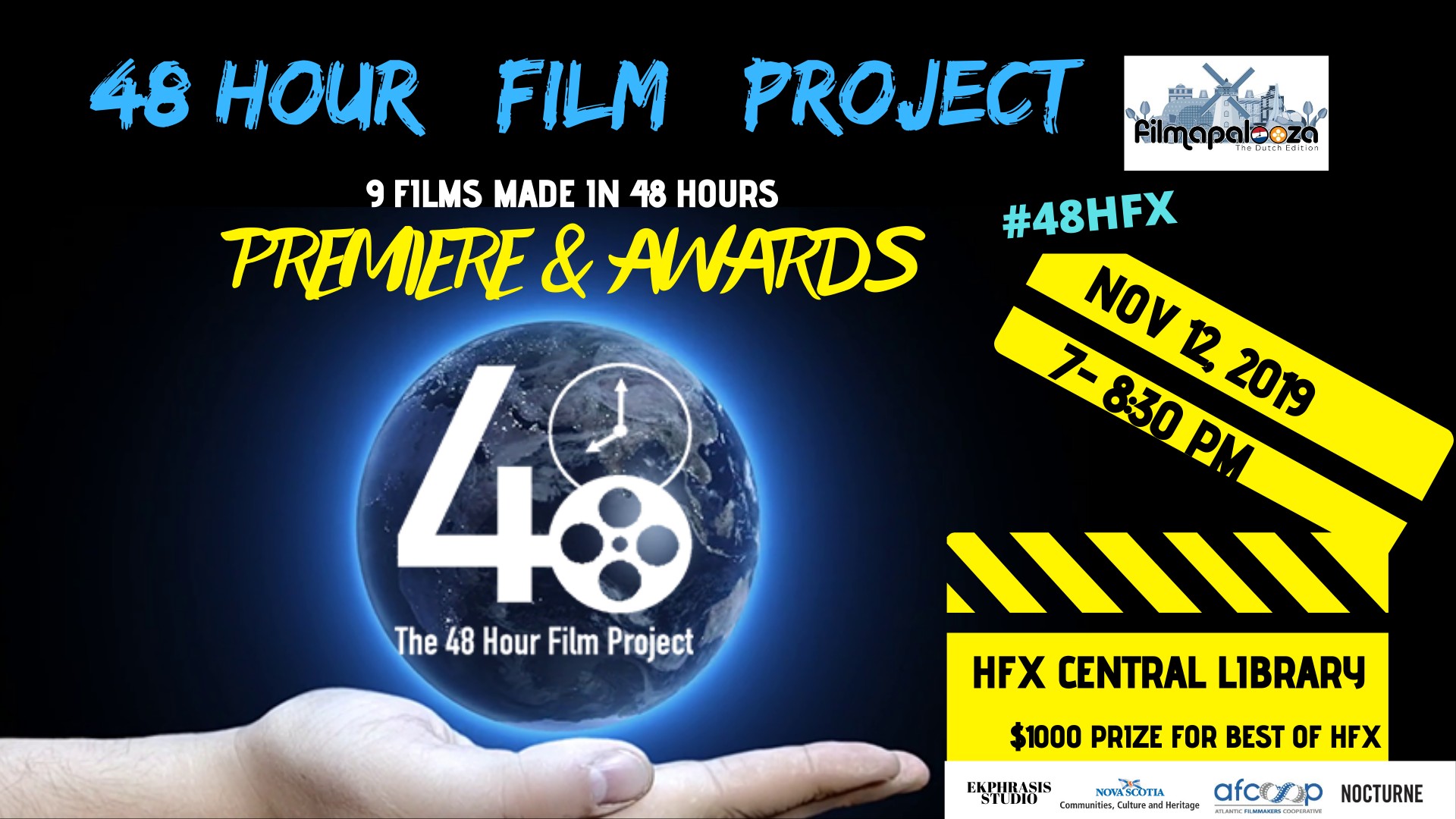 Premiere & Awards 48 Hour Films
9 films made in 48 Hours to Premiere on Nov. 12, 7pm @ Central Library
Over one weekend, Oct 18-20, after drawing genres from a hat and announcing 3 elements to be in the films: Prop – a mask; Character – Ivan/Ivanka Parker, Consultant; Line – "if I'm not back in 5 minutes", 70 people in HRM made 9 films in 48 hours (one was actually done in Pictou). Just 2 days to write, shoot, edit and produce 4-8 minute films to compete for the "Best of Halifax". This year marks the 4th edition of #48HFX producing a total of 33 short films in HRM.
City producer Blerina Berberi says her goal is to encourage film making by anyone, not only professionals, have all films premiere in Halifax, promote talent and the province worldwide, and she's always looking for the team that will make a film for Festival de Cannes in France. With the support of the Nova Scotia Department of Communities, Culture and Heritage "Best of Halifax" receives $1000 and screens among films from 120 other cities at Filmapalooza, March 3-7, 2020, in Rotterdam, Netherlands, with the best of those featured in Cannes Court Métrage, and possibly even get a production deal. We have great talent here in Nova Scotia, and the 48HFX gives teams a chance to create and screen locally, and an opportunity to compete with the best of the world! 48 Hour films from Halifax have been shown in Seattle, Paris and Orlando.
Members of the jury for the 48 Hour Film Project Halifax have included over the last 3 years: Cory Bowles, Doug Karr, Michael McCormack, Koumbie, Tim Wilson, Fateh Ahmed, Zack Miller and for 2019: Becka Barker, Shelley Fashan and Mark Palermo.
This year's lineup includes our first animated film in 48 hours, veteran and first time filmmakers, cast and crew, a total of 70 people directly involved in 9 films, all of which were completed and submitted on time within 48 hours. The largest team had 21 members, while the smallest team had just two. Directors include Taylor Olson & Koumbie, Ryan Cyr, Ryan Schimmel, Catherine Delorey, Fred Bird, Schuyler Crosby, Israel Ekanem, Taylor Murray & Neil Hunt, and Drew Meade.
Listed alphabetically, not by screening order (Genres include: Suspense, Dark Comedy, Detective, Period-piece, Film de Femme, Mystery, Animal Film, Fantasy & more)
Films, Teams & Leaders
Keep by Afro Viking Pictures Gil Anderson
Close Enough by Boshat Films Ryan Cyr
Liar by Goblin Den Productions Ryan Schimmel
Rod of Iron by Grassroots Film Productions Catherine Delorey
Haunted by Lemon Powered Rob Bird
White Papers by Malta Productions Schuyler Crosby
The Unicorn by Once Upon A Time Israel Ekanem
Kelpie by Skeleton Heart Taylor Murray
Feelin' Squirrelly by Toothpick Flicks Drew Meade
Supported by Ekphrasis Studio, Nova Scotia Department of Communities, Culture and Heritage, AFCOOP & NOCTURNE.
Producer Blerina Berberi/ Manager Kevin Tummers
Tickets are $10 plus applicable fees/taxes, get them online at Ticket Halifax or at the Central Library before event.

- Best of Halifax 2018 "Prescribed" by Phoenix Productions, Director Carol Mullins, screened at Filmapalooza Orlando
- Best of Halifax 2017 "No Control" by "Goblin Den Productions", Director Ryan Schimmel, screened at Filmapalooza Paris
- Best of Halifax 2016 "Chowder"by "Gravy Train", Director Craig Gunn, screened at Filmapalooza Seattle