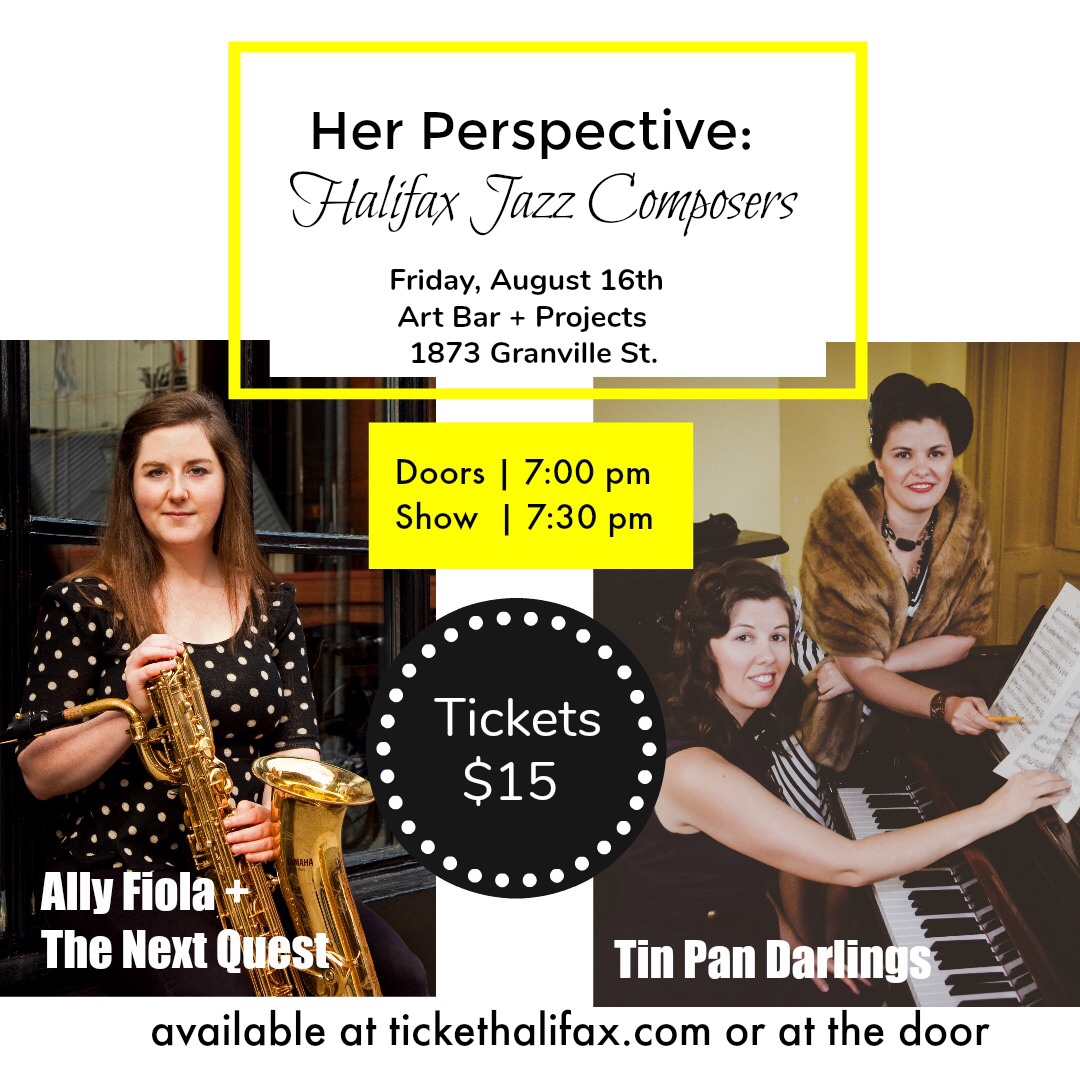 Her Perspective: Halifax Jazz Composers
Halifax composer and saxophonist Ally Fiola and ECMA nominated original jazz artists Tin Pan Darlings will present a double feature of their original music, called "Her Perspective: Halifax Jazz Composers," at Art Bar + Projects, 1873 Granville St, on Friday, August 16th.
Tracy Anderson, composer and bandleader for Tin Pan Darlings, said the women are collaborating because "it's important that female composers (and women in the arts in general) take the initiative to showcase their own work, without waiting for anyone to necessarily approach them. We have to be our own advocates as much as possible, and it's even better if we can work together."
"I wanted to team up with the Tin Pan Darlings because I feel our styles highly compliment one another, and it's a great opportunity to showcase the diversity that our jazz scene has to offer," added Fiola, whose work focuses on original jazz tunes and arrangements inspired by New Orleans brass bands and hardbop.
This fall, Fiola will head to England for the year to focus on jazz and film scoring, while the Tin Pan Darlings will develop new original material.
The two bands share another common thread – bringing jazz to a range of listeners. As Fiola states: "I started my band 'The Next Quest' as a way to play fun music that is accessible by a wide audience." The Tin Pan Darlings also made a 1930's-style silent film to accompany their record "Inside A Melody." During the show, the band features the live original music by Tracy and Amy Anderson as the black and white movie rolls.
Tickets for the event are $15 and available via Ticket Halifax. Art Bar in an all-ages venue where independent artists can present their own work. Everyone is welcome to attend, the doors open at 7pm and the show begins at 7:30pm