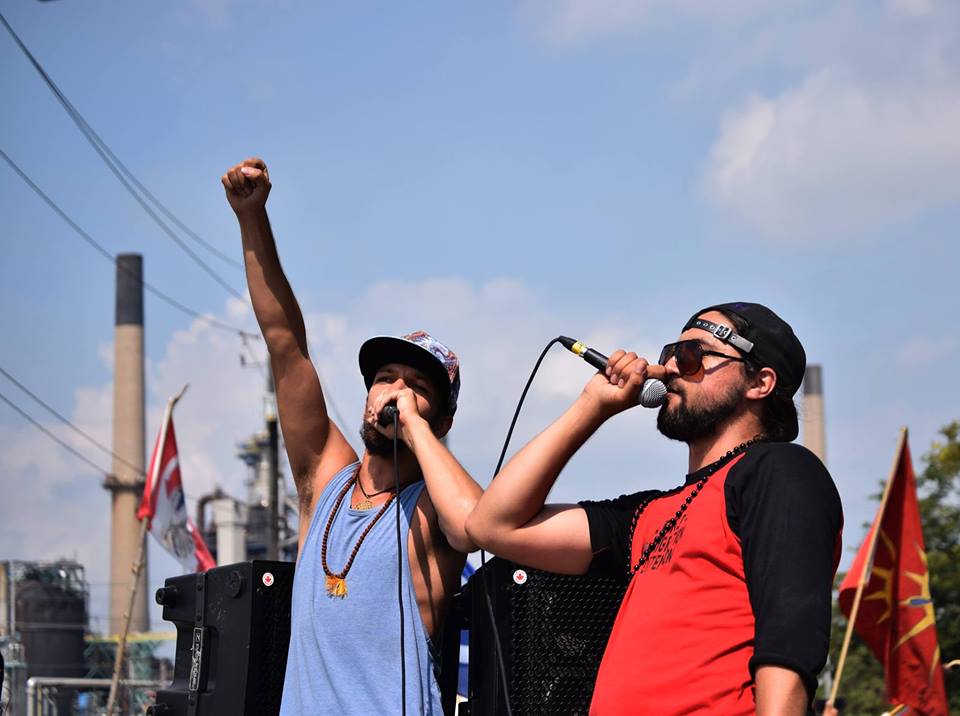 Hip Hop Vs. Capitalism Vol. 2
Back for a second year in a row, Hip-hop Vs. Capitalism will be part of Mayworks' festival mic-drop. Kicking off with a community cypher entitled "Hip-Hop vs. the System", followed by a feature set by acclaimed anti-capitalist hip-hop veterans Test Their Logik.
Hip-Hop Vs. The System ⎮ A Community Cypher
Calling all rappers and emcees in the HRM.
Join the collective rap-battle vs. the forces that control, oppress, and exploit us all. Bring your best bars and spit truth to power about cops, jails, bosses, banks, corporate power, racism, poverty, the 1%, politicians, colonization, sexism, war, climate change, etc.
We've been battling each other too long, it's time we unite and battle the system!
Hosted by DJ 5Rivers & DJ Tranzish(ə)n
DJ 5Rivers has a deep rooted love for music, dance and community. They are passionate about issues of environmental justice, social justice, gender equity all while focusing on the intersections of gender, race and class.
DJ Tranzish(ə)n was born and raised in K'jipuktuk as a Maroon descendent. She loves every aspect of music while showing and celebrating her Jamaican roots. DJ TranˈziSH(ə)n brings you through the soundtracks of her daily life. Playing you hot hiphop, R&B, Reggae and dancehall tunes from the 90's to present.
Test Their Logik
Using hip-hop to inspire political action and to deliver potent messages of social and environmental justice, TEST THEIR LOGIK has developed a following among activists and hip-hop heads alike. For over a decade they've toured this planet, supporting social movements and freedom fighters at the front lines of struggles against the tyranny and violence of the powerful, as well as rocking parties, festivals, and stages on every continent. Their most recent album "BE" was well-received on campus radio across Canada, staying in the the top 10 on the hip-hop charts Nationally for 10 weeks straight and hitting #1 at various stations across North America. They are currently working on their third full-length Album "See".
Presented in partnership with Paint Cha A Pitcha Productions.
Full Festival details available at www.mayworkshalifax.ca