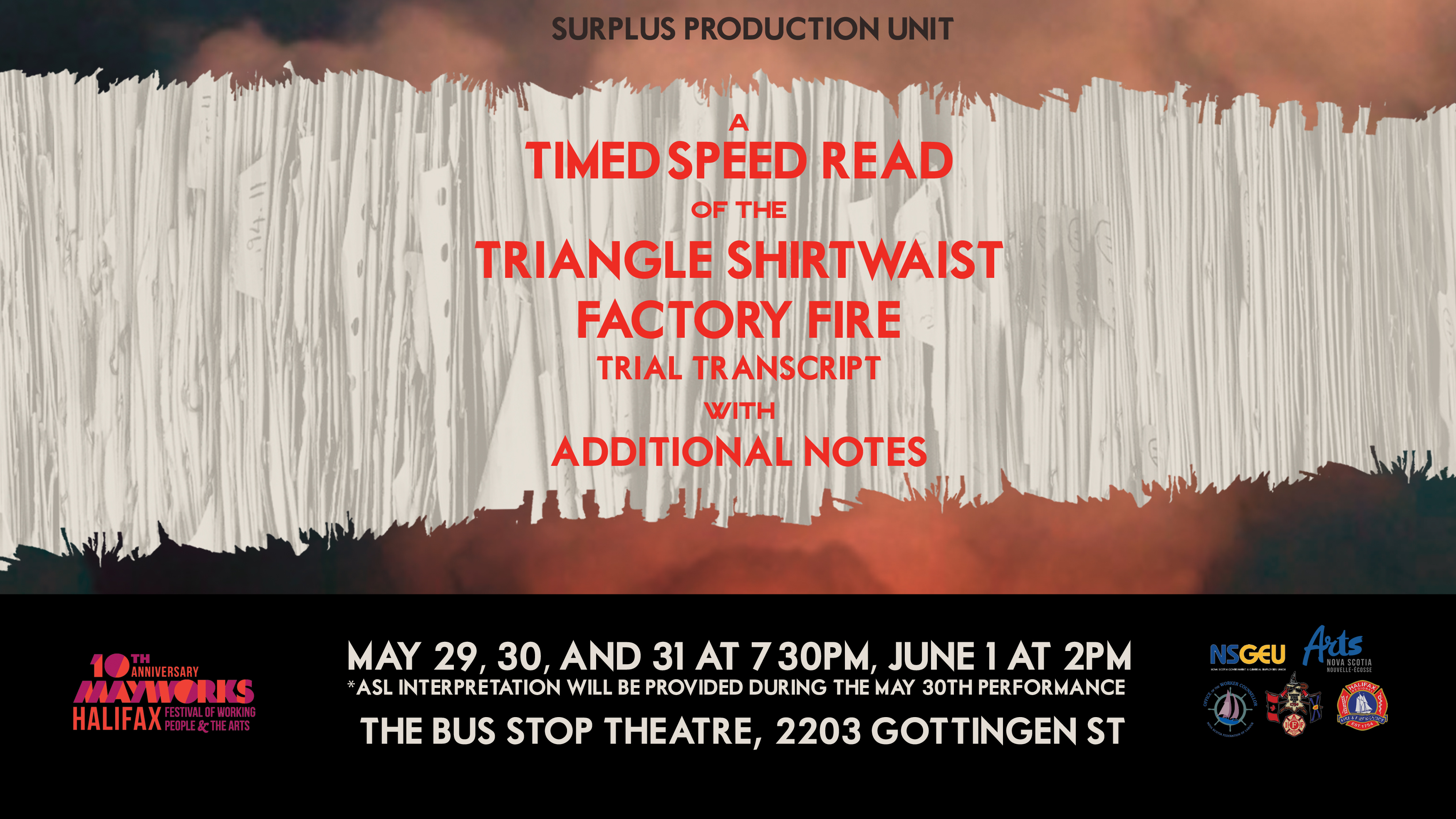 A Timed Speed Read of the Triangle Shirtwaist Factory Fire Trial Transcript with Additional Notes
May 29th to 31st, 7:30pm | June 1st, 2:00pm | June 2, 7:30pm
Presented by Surplus Production Unit
In 1911, 146 people were killed in a fire at the factory of the Triangle Waist Company in New York. The highly contentious trial that followed spurred the public to demand workplace safety reforms and became a touchstone for radical and progressive political movements. At the time, people swore that the victims and the fire would never be forgotten.
Three actors – from another country and century – are tasked with reading from the massive trial transcript as quickly as possible. Despite the speed, they must communicate the key points and central conflicts, while giving insight into the 1911 events and their resonance with the world of today. Can they beat their best time? Can they surprise us? Can they help us remember?
Conceived by Alex McLean
with (alphabetically) Chun Shing Au, Zach Faye, Carmen Lee, Kat McCormack, Briony Merritt, Lily Ross-Millard and Richie Wilcox
Starring: Kat McCormack, Briony Merritt and Richie Wilcox
Set/prop design: Chun Shing Au, Kai On Kerwin Lam and Carmen Lee
Direction and Script (from verbatim sources): Alex McLean
Preliminary Research: Myrto Koumarianos
Sign language interpretation will be provided during the May 30th presentation.
Presented by the Office of the Worker Counsellor, Halifax Fire and the Halifax Professional Fire Fighters
With support from Arts Nova Scotia and the NSGEU
Full Festival details available at www.mayworkshalifax.ca