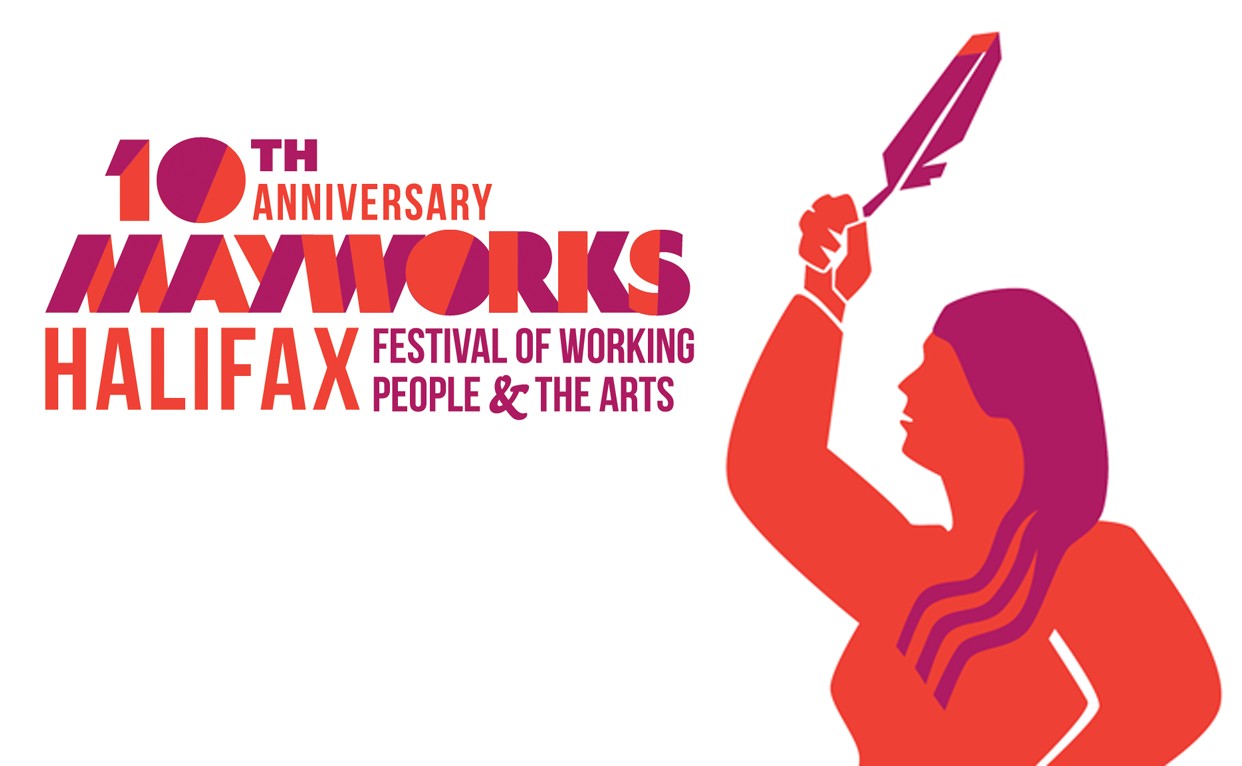 2019 Mayworks Halifax Festival Pass
May Day Celebration & Opening Reception
May 1st, 6:30pm – 7:30pm ⎮ RadStorm (2177 Gottingen St)
Bread & Roses reception with FREE LF Bakery bread and Rose &Raspberry ice cream and sorbet from Dee Dee's Ice Cream. The reception will feature music by Luyos MC and previews from upcoming festival events. This event will immediately follow the May Day rally & march organized by the Halifax-Dartmouth & District Labour Council.
Songs of Resilience: Bringing Voice to Protest Music
May 4th, 7:00pm ⎮ St-Andrew's United Church (6036 Coburg Rd)
May 9th, 8:00pm | Halifax Convention Centre / NSGEU Convention (1650 Argyle St)

Celebrating song as a tool for social change movements with Polaris Choir. Featuring chants, protest songs, contemporary choral works, and a choir-created arrangement, listeners will be transported throughout the past hundred years and invited to reflect on social movements that have impacted the Nova Scotia region.
Polaris is Choirs for Change's high-intensity adult community choir led by Jack Bennet, Sanford Hare, and Emma Norton.
The Big Picture: Working Conditions of Independent Animators
May 11th, 5:00pm-6:00pm ⎮ Museum of Natural History / Carbon Arc Cinema (1747 Summer St)
Presented in partnership with the Animation Festival of Halifax (AFX), this panel features special guests Michael Fukushima (Executive Producer of the National Film Board's English Animation Studio), laura jeanne lefave (Program Officer at the Canada Council for the Arts), and award-winning independent animators Steve Woloshen and Sam Decoste. Panelists will aim to raise the awareness of animators working exclusively in commercial animation as well as that of the general public, and hopefully generate some ideas and plans for improving these working conditions.
Graphic History Collective: Drawn to Strike
May 15th, 7:30pm ⎮ Glitter Bean Cafe (5896 Spring Garden Rd)
The Graphic History Collective will be presenting their two newest book releases.
1919: A Graphic History of the Winnipeg General Strike commemorates one of the most important moments in Canadian history, and Direct Action Gets the Goods: A Graphic History of the Strike in Canada chronicles the history of the strike as a powerful tool that has and continues to propel progressive changes in our workplaces and society at large.
GHC contributors Robin Folvik and Orion Keresztesi will be in attendance and Bookmark will be selling copies of the graphic novels on site.
the effects were cumulative and i almost didn't notice
May 18th, 11:00pm-3:00pm ⎮ Glitter Bean Cafe (5896 Spring Garden Rd)
By the year 2100, port cities should prepare for a 250 centimetre rise in sea levels*.
Where do our habits – as humans, as workers, as individuals, as a society – lead us? The things we do every day. The things we don't do, every day. Small actions with eventual results. Time ceaselessly crashes on, and the tendency of it all to add up can catch us by surprise. What do we tend to? What do we neglect? Tides slowly rise within us, the world changes around us, and we forget what a tiny pinprick of perspective we see it all from. How soon we are engulfed. How unwittingly we build our own prisons.
For 250 minutes, performer/creator Colleen MacIsaac constructs an examination of how easily we can paint ourselves into a corner, get in over our heads, alter our circumstances until they are no longer safe for us. A durational exploration of what a long time it can take to arrive at what seems preventable in action yet feels inevitable upon arrival.
*The U.S. National Oceanic and Atmospheric Administration, 2017 report.
Remembering the Winnipeg General
May 20th & 21st, 7:30pm ⎮ The Bus Stop Theatre (2203 Gottingen St)
DaPoPo Theatre presents a staged reading of a new play by Thomas McKechnie.
"So what do we do in divided, fearful times? What do we do with the howling, hopeless, yellow tinged guts in our frail little bodies?"
Winnipeg, 1919. Massive unemployment and inflation. In the wake of the Russian Revolution, workers, many of them newcomers to Canada, unite and effectively shut down the city. Thousands of women act as strikers and strike-breakers. The Citizens' Committee, representing the city's ruling class, along with the police, respond with force.
Toronto-based theatre artist Thomas McKechnie, known to Halifax audiences from A Wake For Lost Time and 4 1⁄2 (ig)noble truths, asks us to remember Canada's landmark strike and consider the price of state-sanctioned violence and systemic oppression. Halifax actors Madeleine Tench and Kristi Anderson lend voices to the over 40 characters in a staged reading of this rousing new play directed by GaRRy Williams and Keelin Jack.
Sistas of the Struggle
May 22nd, 7:00pm ⎮ The Bus Stop Theatre (2203 Gottingen St)
We marched, sang, protested and supported the feminist movement, we fought for maternity leave, employment equity, flex time, and society stands on our shoulders.
A panel discussion examining the story of Black women who have led movements for social change during the 70's, 80's and 90's.
Although Black women have played an important role – both behind the scenes and on the frontlines – in struggles for equality, women's rights and social justice, they are generally excluded from historical narratives of the feminist movement.
It is time their stories were told and their contributions to social justice acknowledged and recognized.
Panelists:
Lynn Jones, Dolly Williams, Delvina Bernard and Carolann Wright-Parks
Event Facilitator: Folami Jones
Panel Moderator: El Jones
Opening performances by Dr Afua Cooper and Martha Mutale
"When we speak of feminism there almost always is the tendency to assume that this is something that was created by white women." Author and Feminist Civil Rights Leader, Angela Davis
The Mi'kma'ki 2030 Collective: Hope and Fire
May 23rd to 25th, 8:00pm ⎮ The Bus Stop Theatre (2203 Gottingen St)
What are the possibilities for Mi'kma'ki?
In this dynamic, multi-disciplinary installation-performance, indigenous and black artists dream, hope and create a different way forward for this land. The artists individually and collectively articulate their visions through a provocative sharing of film, visual art, music, word and dance. Hope and Fire invites people of all ages to immerse themselves in the most pressing questions facing our collective existence on this land.
Artists: Cathy Martin, Elizabeth Martin, Bria Miller, Tayla Paul and Liliona Quarmyne.
Rope Making
May 25th, 2:00pm-6:00pm ⎮ RadStorm (2177 Gottingen St)
Textile Artists, Xiaocheng Li and Leesa Hamilton will make rope from discarded shirts. The Fashion and Textile industry create a lot of waste that takes decades to breakdown. Donate your old shirts that would otherwise end up in landfill. This hands on activity will call on you to turn waste into something beautiful and functional. All of the rope we make will be installed in the Bus Stop Theatre until the end of the Festival.
Reel Justice
May 26th, 7:30pm ⎮ The Bus Stop Theatre (2203 Gottingen St)
Our short film program weaves through issues and narratives to present a cinematic collage you won't find at the Cineplex. Featuring Apaja'simk by Trevor Gould, The Gottingen Stigma by Ross Andersen and Silas Brown, Grace by Taylor Olson, Duck, Duck, Goose by Shelley Thompson, and many mo
re!
MesoAmérica Resiste!
May 28th, 7:30pm ⎮ The Bus Stop Theatre (2203 Gottingen St)
Come see a mural-sized pen and ink masterpiece that took over nine years to create! The Beehive Design Collective works as word-to-image translators of complex global stories, shared with us through conversations with affected communities. MesoAmérica Resiste covers resistance to large-scale infrastructure development throughout Southern Mexico and Central America, touching on themes relevant to any community on the front lines of resistance to corporate globalization.
A Timed Speed Read of the Triangle Shirtwaist Factory Fire Trial Transcript
with Additional Notes
May 29th to 31st, 7:30pm & June 1st, 2:00pm ⎮ The Bus Stop Theatre (2203 Gottingen St)
Presented by Surplus Production Unit
In 1911, 146 people were killed in a fire at the factory of the Triangle Waist Company in New York. The highly contentious trial that followed spurred the public to demand workplace safety reforms and became a touchstone for radical and progressive political movements. At the time, people swore that the victims and the fire would never be forgotten.
Three actors – from another country and century – are tasked with reading from the massive trial transcript as quickly as possible. Despite the speed, they must communicate the key points and central conflicts, while giving insight into the 1911 events and their resonance with the world of today. Can they beat their best time? Can they surprise us? Can they help us remember?
Conceived by Alex McLean with
(alphabetically) Chun Shing Au, Zach Faye, Carmen Lee, Kat McCormack, Briony Merritt, Lily Ross-Millard and Richie Wilcox
Starring: Kat McCormack, Briony Merritt and Richie Wilcox
Set/prop design: Chun Shing Au, Kai On Kerwin Lam and Carmen Lee
Direction and Script (from verbatim sources): Alex McLean
Preliminary Research: Myrto Koumarianos
OBEY Convention: Resilience Resonates – Zine Launch
May 31st, 1:00pm ⎮ All Nations Church Hall (2535 Robie St)
Resilience Resonates is a collaborative zine that's been facilitated by Nikki A Basset and Elyse Moir, a duo of local organizers, educators and music lovers. The zine showcases a collection of expressions and feelings related to music, sound, and performance from femme, trans, gender non-conforming and two-spirit folks. Submissions include a broad range of genres, modes and mediums from communities far and wide. Join us in celebrating this noble project! Casual speaking engagements and light refreshments to be provided.
OBEY Convention: Iranian Music, The Female Body and The Burden of Message
May 31st, 3:00pm ⎮ Halifax North Memorial Library (2285 Gottingen St)
Join Iranian academic and music researcher Hadi Milanloo along with local facilitator Carmel Farahbakhsh as they unpack Milanloo's recent field research in Tehran. This program explores Iranian female musicians and their relationship to an at-home and diasporic audience, their visual identity in the context of unpredictable political climates, and how their creative pursuits link and diverge from broader political and cultural contexts. Facilitated dialogue to follow.
OBEY Convention: Strange Froots & Zamani
May 31st, 2:00pm ⎮ George Dixon Centre Greenspace (2502 Brunswick St)
A Friday afternoon celebration of chill grooves and deep rhythms. Strange Froots are a trio of soul warriors from Montreal, Canada featuring MCs Naïka Champaïgne, SageS, and Mags. Seamlessly blending traditions from their manifold perspectives of the Black diaspora (Haiti, Ghana, Jamaica and Senegal), the Froots' music displays a disarming form of directness that allows them to communicate complex ideas with effortless allure. Joining them is local vocalist / songwriter / producer Zamani, a young force combining the vibes of India Arie, Solange, Mariah Carey and more. At 18 years young, Zamani's smooth presence, deft production work and striking vocals showcase a preternatural gift for music. Look out world!
Hip Hop Vs. Capitalism Vol.2
June 1st, 8:00pm-11:45pm ⎮ The Bus Stop Theatre (2203 Gottingen St)
Back for a second year in a row, Hip-hop Vs. Capitalism will be part of Mayworks' festival mic-drop. Kicking off with a community cypher entitled "Hip-Hop vs. the System", followed by a feature set by acclaimed anti-capitalist hip-hop veterans Test Their Logik. Hosted by DJ5Rivers & DJ Tranzish(ə)n.
Dance to A New Dawn
Overnight June 1st to 2nd - midnight to dawn ⎮ The Bus Stop Theatre (2203 Gottingen St)
5 Epic DJ's will take us all on a journey through space, time, and sound as we celebrate revolutionary arts and culture and dance the night away as a community. Complementing the music will be stunning and politicized murals, graphics, and video-streams creating a visually transformed Bus Stop that merges the vibes of a music festival with a political movement in the most enticing way. There is nowhere better to spend the first 6 hours of your Sunday June 2nd than here with us. Feat. DJ Cee.Reality, KittyBass, Wobble Wallah, DJ Fadzwa, ANANDRA.