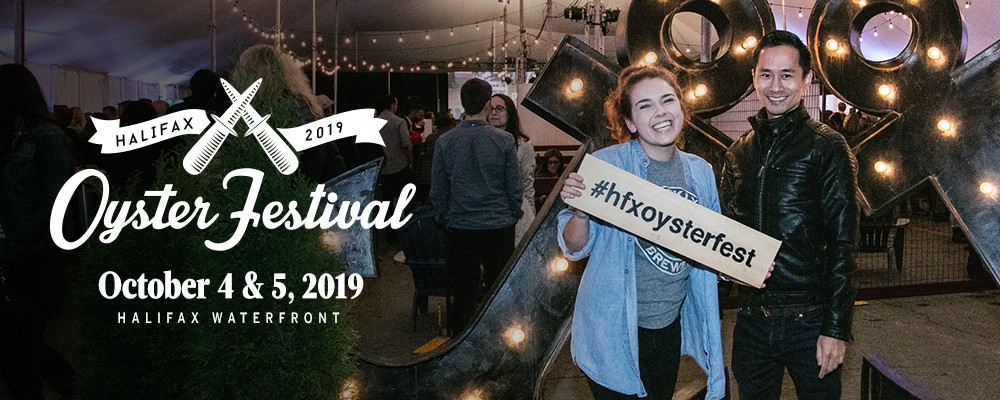 The Coast's 5th Annual
Halifax Oyster Festival
3 sessions: Fri, Oct 4, 7-10pm, Sat, Oct 5, 12-3pm, 7-10pm
19+ after 7pm
shellfish on site
Halifax Oyster Festival, founded in 2015, is Canada's biggest raw bar, serving a near 60,000 oysters from Nova Scotia, PEI, New Brunswick, and guest oysters from around the world.
This unique event brings festival attendees closer than ever to the ocean by providing an all-you-can-slurp experience right here on the Halifax waterfront. Host of Nova Scotia's own Oyster Shucking Competition hosted by Daniel Notkin, Halifax Oyster Festival unites oyster lovers with oyster farmers and sparks bi-valve curiosity across all three festival sessions.
As always, the event is held rain or shine outside on the Halifax waterfront in early October. You should dress for the weather but you will be pretty cozy under the pearly white tent. You can also warm up next to your sweetie in our outdoor lounging area at on-site firepits.
Looking to slurp and stay?
Book your room now with our official hotel partner, the Halifax Marriott Harbourfront
NOTE: This is not a package, you will need to separately purchase your Halifax Oyster Festival tickets to the session of your choosing.

More information at oysterfest.ca
NOTE: Event site is 19+ after 7pm with valid ID, children and minors are invited to attend the Saturday afternoon session but must be accompanied by a parent or guardian. Children under 2 are free, however, strollers are strongly discouraged. No refunds, no pets (service dogs accepted).
Halifax Oyster Festival is produced by The Coast, Halifax's weekly newspaper.
Photos by Riley Smith, Mike Hall, Ryan Williams, video by Meghan Tansey Whitton
Halifax Oyster Festival is presented with:
The Coast
Develop Nova Scotia
NS Spirit Co
Downtown Halifax Business Commission
Afishionado Fishmongers
Marriott Halifax Harbourfront
Atlantic Lottery
Assante Hydrostone
Jost Vinyard
Ardbeg Islay Single Malt Whisky
Fisherman's Market
Halifax Water
Jack 92.9
Will Film Halifax