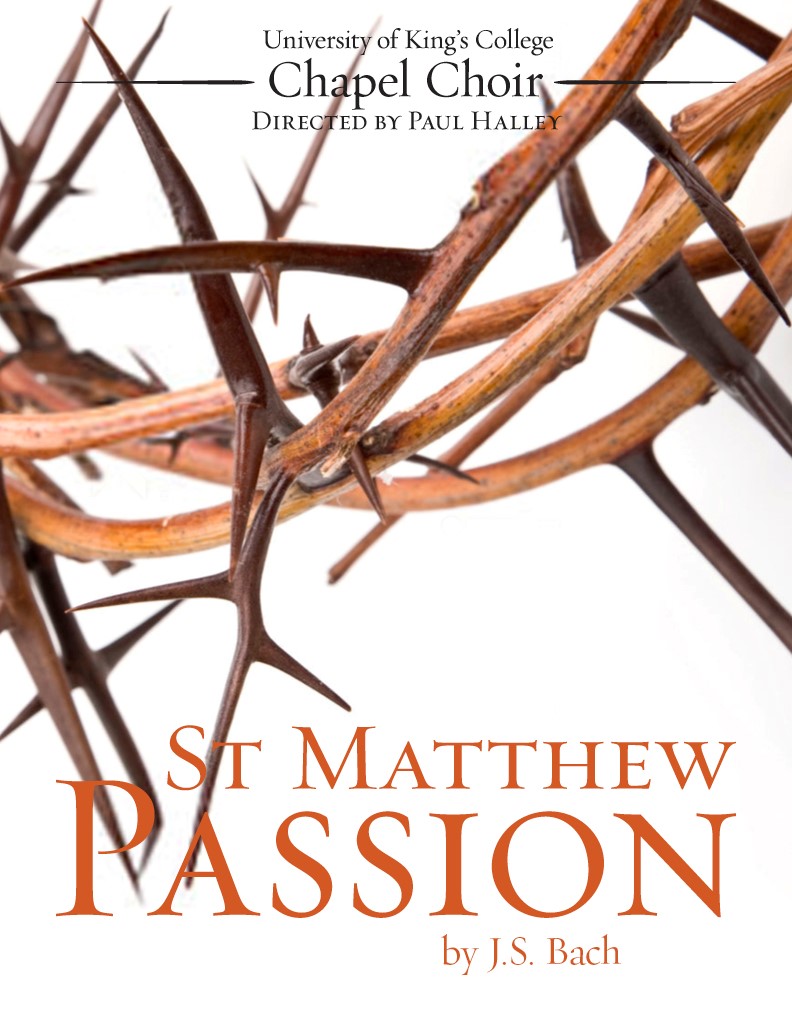 University of King's College Chapel Choir, directed by Paul Halley
St Matthew Passion by J.S. Bach


with Charles Daniels (Evangelist), Ensemble Regale, and a stellar line-up of musicians from Canada's early music scene

Online ticket sales have ended, but tickets will be sold at the door. Doors open at 3:00 p.m.

Five-time Grammy winner Paul Halley directs The University of King's College Chapel Choir, hand-picked chamber orchestra Ensemble Regale, and special guests in a ONE-PERFORMANCE ONLY presentation of Bach's magnificent St Matthew Passion in Halifax. Scored for double choir, double orchestra, and soloists, this masterwork tells the story of Christ's Passion using the narrative from the Gospel of St Matthew and additional texts by Bach's librettist, Picander. The role of the Evangelist will be sung by reknown British tenor, Charles Daniels. Other guests include Baroque master David Greenberg leading Ensemble Regale with instrumentalists from Nova Scotia and across Canada, the boy sopranos of Capella Regalis Men & Boys Choir, and a line-up of stellar soloists from Canada's early music scene: Nicholas Burns (countertenor), Benjamin Butterfield (tenor), Clayton Kennedy (Jesus), Janelle Lucyk (soprano), Marie Magistry (soprano), Sarah Myatt (alto), and Nathaniel Watson (bass).

When the Chapel Choir last performed the St Matthew Passion five years ago, the concert was named "the East Coast choral event of the season" by CBC Music. The University of King's College has won a reputation for presenting world-class performances of the great Baroque masterworks right here in Nova Scotia.