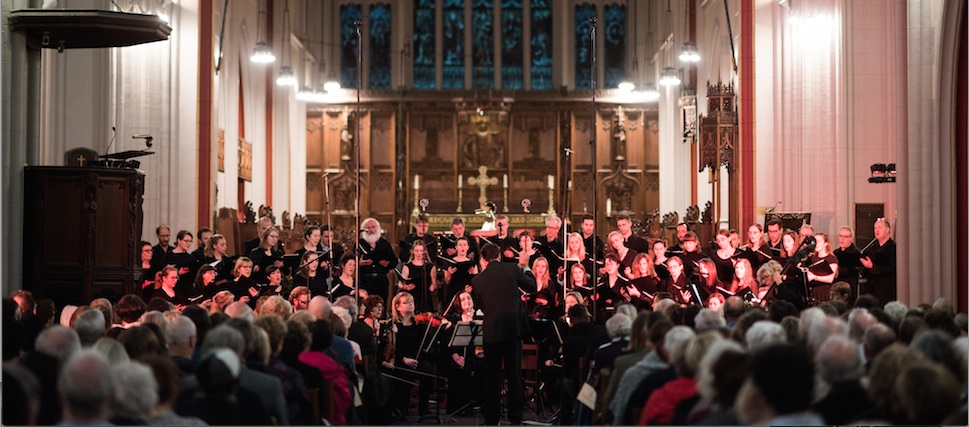 The King's Chorus presents IKOS: Music by the Russian Masters and Modern Mystics
The King's Chorus, under the direction of Nick Halley, presents their spring concert, "IKOS." Falling on the Eve of the Annunciation, which is celebrated concurrently this year by both the Eastern and Western church, this feast of song will feature music written by some of the most prominent composers of the Eastern tradition. Joined by members of Capella Regalis, soloists, percussion, and Paul Halley on the organ, the Chorus will achieve a surround-sound listening experience through the lush acoustics of the Cathedral and by singing from each corner of the vaulted building. The splendid Hymn to the Mother of God by John Tavener will be sung in sequence with the tender Bogoroditse Devo by Rachmaninoff. The edgy sounds of Tolstiakov's Blasgoslovi will be heard alongside the mystical melodies of Arvo Pärt's De Profundis and the stunning lines of Górecki's Totus Tuus. The concert will also feature the Canadian premier of Paul Halley's Requiem for Dmitri, written on the occasion of the death of his old friend, the founder of the Dmitri Pokrovsky Ensemble.
The Chorus invites you to this encounter with the hauntingly beautiful music of the Russian Masters and the "Modern Mystics" in the resonant space of Halifax's Cathedral Church of All Saints.
The King's Chorus is a choral society of the University of King's College comprising sixty students, faculty, staff, and community members. They rehearse major choral works from various traditions and perform a concert each semester.
Visit http://www.kingschorus.com for more.
Contact kingschorus@gmail.com for questions concerning seating.