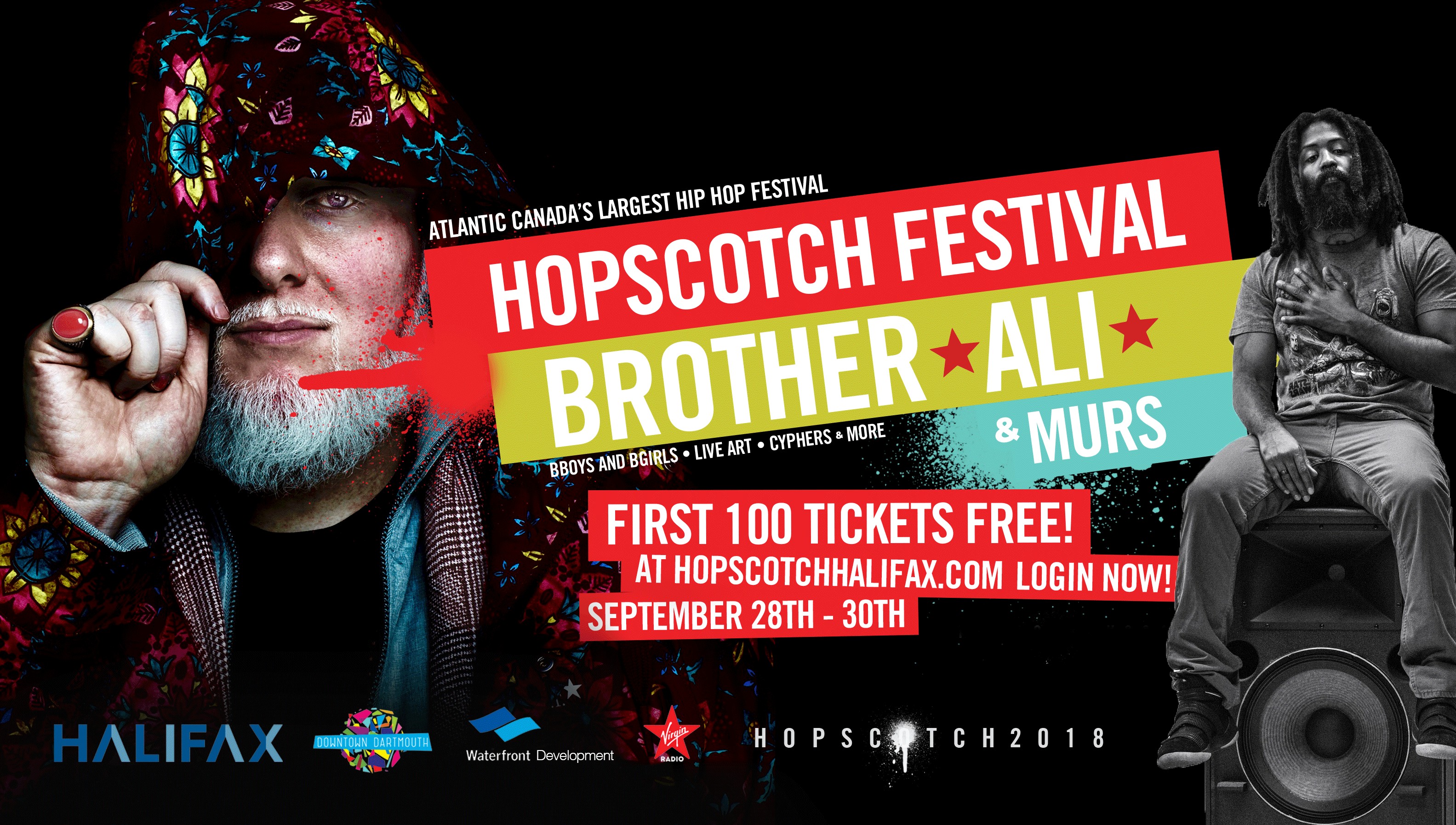 Hopscotch Festival Main Event - Brother Ali + MURS + More
Arrive before 6pm Ticket
more info
You NEED to be at the door by 6pm to use this ticket. If you are not checked in by this time you will need to pay an additional $10 at the door for entry. The dance battles and live art all begin at 4pm. We feel before 6pm should be easy! Come eat, drink and listen to the best hip hop in Atlantic Canada and beyond!
$7.54

with fees and taxes
Arrive Anytime Ticket
more info
This ticket guarantees entry at any time. You don't have to worry about anything with this ticket. Just come and enjoy! We encourage early arrival to see the dance battles and live art creation though!
$11.51

with fees and taxes
$25.86

with fees and taxes
HOPSCOTCH 2018

Atlantic Canada's Largest Hip Hop Festival Returns! This year we are taking over Dartmouth Ferry Terminal Park. Right on the ocean and surrounded by Hip Hop Culture. Live Art, Dance, DJs and Emcees! This is a chance to celebrate youth and enjoy modern entertainment on the East Coast
Headliners

BROTHER ALI - Millions of views on his music and he's travelled the world pushing Hip Hop to the masses through one of the most respected crews in Music. Rhymesayers legend Brother Ali will have his first ever headline show in Nova Scotia.
MURS - This man is the defiintion of a storyteller. Constantly challenging himself album after album. Hes worked with some of the biggest artists in the world and he even has the Guiness World Record for longest conitnuous rap of all time. He went 24 hours straight! On top of that his work with Hip Hop DX is constantly provoking deep conversation into the hip hop world we know today.
All Day Entertainment
Shevy Price Hosts The Hopscotch Cypher
Roast The Coast BBoy Battle - Live Dance battles
Open Cyphers
Live Art Walls