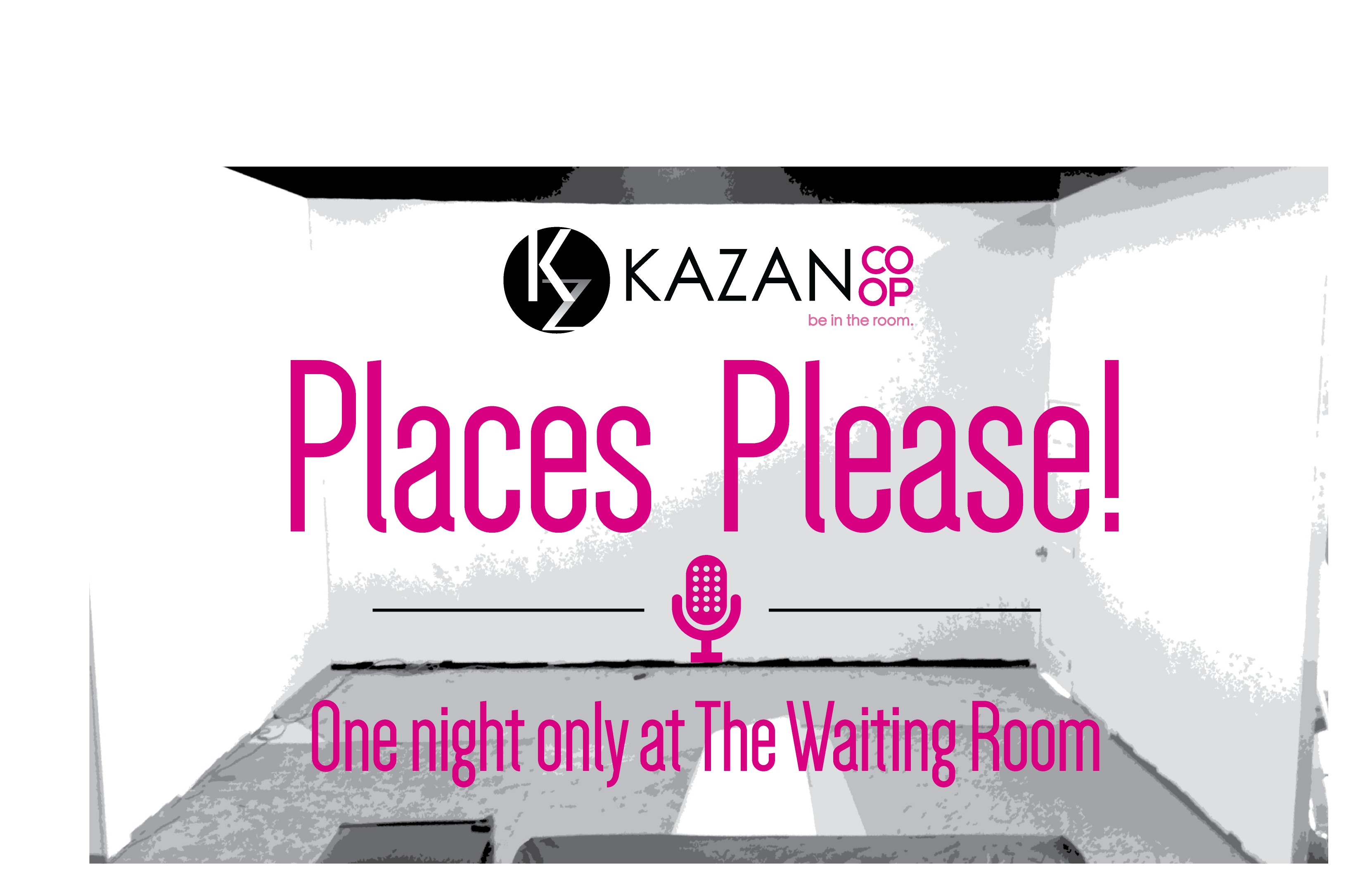 KAZAN CO-OP presents
"Places Please!"


A Celebration of The Waiting Room because we have to move in the Fall!
July 30th - 7:30 Doors Open , 8pm Talk Show and Dance Party
A Benefit event for KAZAN CO-OP in Celebration of The Waiting Room.
KAZAN presents an evening of fun, an early late night talk show with artists from our shows.The building will be torn down to make way for a new development Fall 2018. We are so grateful to have made this home in Halifax`s bustling North End.
Starring Daniel MacIvor - Governor General award winning playwright and actor. For KAZAN "Communion" ,"I`Animal" , "HIs Greatness" and "The Best Brothers". Daniel will perform an exerpt from his new play. Allie MacDonald one of the stars of our production of "The Weekend Healer" and upcoming "Shakespeare in Love" at Neptune will sing us selections from musical theatre. Soprano Stacey Fraser star of "Frida" in "Stacey And Liz' for KAZAN returns from California to delight us with her vocals. Stephanie MacDonald , for KAZAN,star of "Communion" (Merritt Award for Best Supporting Actor ) and "The Weekend Healer" will make an appearance. Matthew Lumley, for KAZAN' Heaven Above,Heaven Below" currently playing Vanya for Two Planks will sing us a tune. Our special guest stars are Marguerite MacNeil of The Trailer Park Boys! and the gorgeous Patricia Zentilli comes home from Edmonton to perform for us. Marguerite is the grande dame of Nova Scotia theatre and has worked with Kathryn and Janet in many successful productions in the past. Ms. McNeil will regale stories from the set and her illustrious career. Patricia just played "Donna" at The Citadel Theatres production of "Mamma Mia" . The hosts; funny man Bill Carr and Artistic Director Kathryn MacLellan with musical accompaniment by the fabulous Holly Arsenault. We will announce our next show on that night along with a live auction of charcoal sketches from "HIs Greatness" , signed posters from our shows. and a night at Larinda`s Landing Oceanfront Cottages in the beautiful St. Margaret`s Bay! After the show we will turn the stage into a dance floor and dance until midnite! All funds raised will go toward the next production.
Join us for an evening of performance, dancing ,lots of fun and celebrate four years in our black box theatre.
Love,
KAZAN