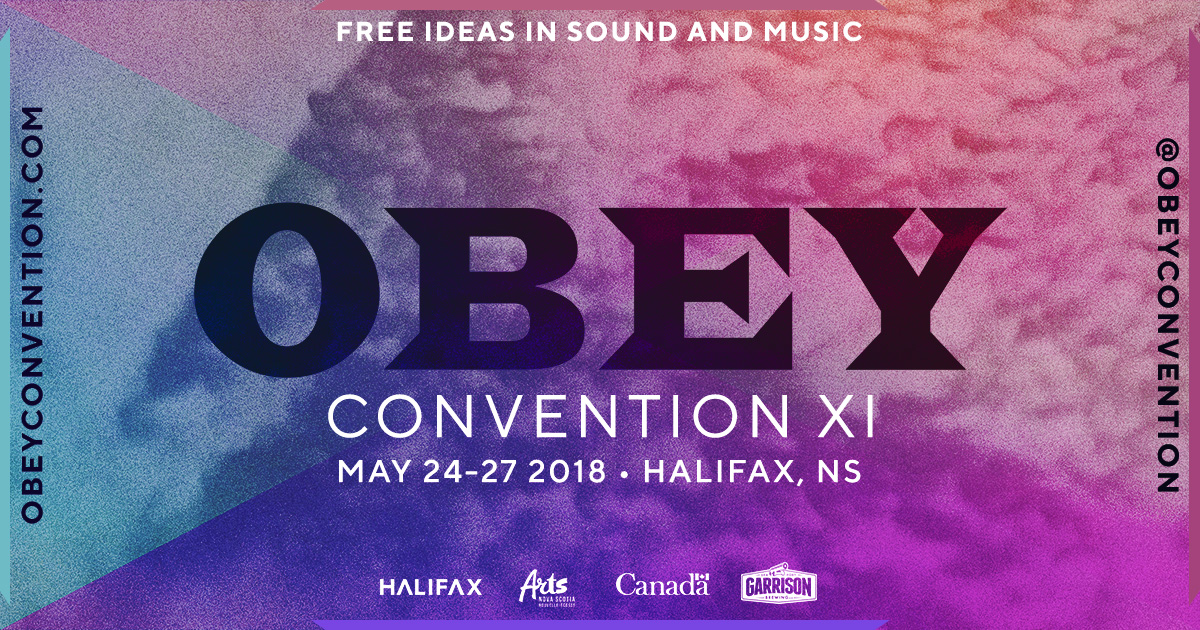 OBEY Convention XI
OXI presents Nídia + Jerico + Benjamin + DJ Fadzwa
OBEY Convention Presents Nídia + Jerico + Benjamin + DJ Fadzwa
Portia White Atrium, Citadel High School, 10pm Saturday May 26th 2018
Nídia
This Fever Ray collaborator is one of contemporary dance music's brightest producers. The Portuguese-born, Bordeaux-based firestarter landed herself on recent year-end lists from Pitchfork, The Wire, NPR, The Quietus; all at the ripe young age of 21. Her deft approach to production finds roots in kuduro, an Angolan style of heavy-hitting 80's dance music that migrated to Portuguese communities throughout the following decade, being further shaped by Western house influences and hyper-local punk mentalities. As kuduro continues to shed its regional limits and infiltrate the larger global consciousness, Nídia's music sounds more and more unique: shot through with a disaffected attitude, anchored by buzzsaw bass and streams of left-field melody.
Jerico
Jerico is a 22 year old, Haitian-Canadian DJ, producer and vocalist who has quickly been recognized as one of Montreal's most promising young artists; a wildly inventive producer responsible for unique club abstractions and countless memorable late-nite DJ sets. His energy behind the decks is a welcome jolt to any party, but it's his talent for blending seemingly disparate styles into one cohesive vibe that sets him apart from his peers. His selector sets draw broadly from African rhythms to contemporary underground club music, while his own productions further enmesh these touchstones with idiosyncratic flourishes. With synths, FX, samples and his own singing in Haitian-Creole, Jerico creates something truly personal and unique. Walls, a dark, complex and contemplative dance floor sparking EP out in April, features the first recorded cuts of Jerico's vocals and a crushing collaboration with Pelada's Chris Vargas. We wouldn't be surprised if this new development takes Jerico out of our reach and deep into the international orbit, so we're psyched to catch him on the upswing.
Benjamin
Benjamin is a Halifax-based MC mining a unique store of trap-influenced hip-hop. With production touches by legendary 902 chemist Jordan Metro, his tracks elicit a hazy blend of ambience and inflected with an energetic flow. Benjamin's musical innovation is subtle, clever and contemporary; combining influences from his upbringing by a classically-trained mother and musician father, hints of golden-era contemplation and du-jour flourishes of A$AP-mentality and Travis Scott posturing. At the ripe age of 20, having spent the last two years rediscovering his artistic edges, Benjamin is poised to emerge as a primal force in East Coast hip-hop.
DJ Fadzwa
DJ Fadzwa has been changing the way people dance in Halifax since 2013. Originally from Zimbabwe, Fadzwa draws from a wide range of high energy music with a special focus on afro-house, dancehall and moohmbaton. He is founding member of Halifax's all-important BahNahNah DJ collective and a regular at AlterEgos brunch and The Khyber's late night sweat-a-thons. Basically, Fadzwa is a life force for a number of communities looking to free their minds and move their bodies. We're feeling blessed to have him back in the fold!