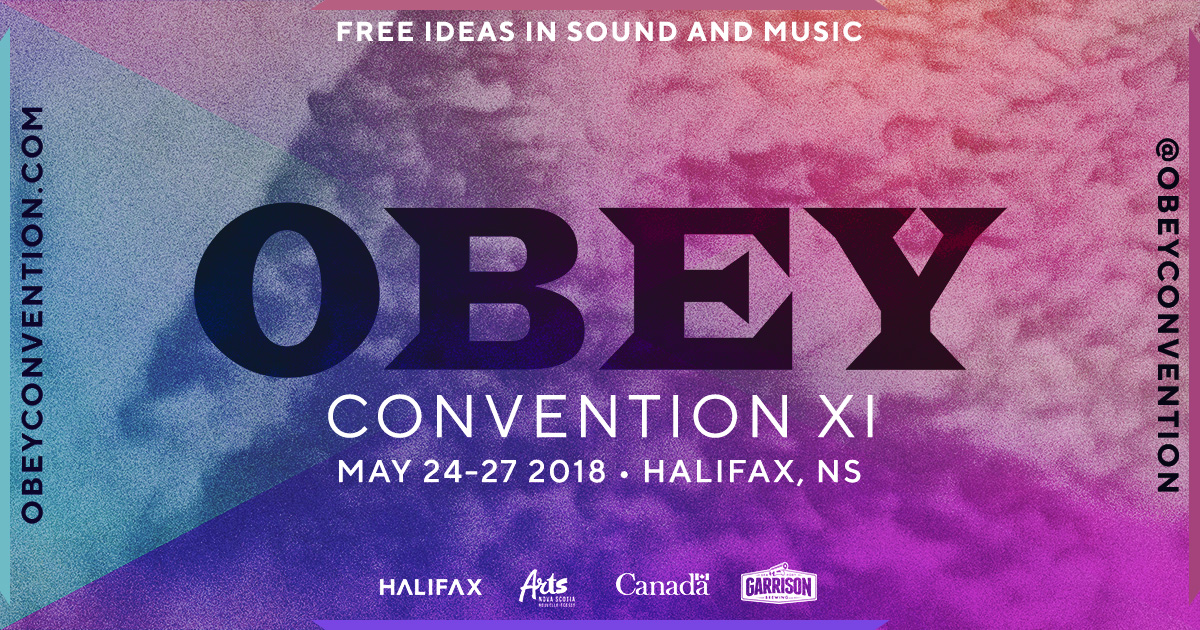 OBEY Convention XI
OXI presents ONO + Sydanie + Maximata + DJ Douvet
OBEY Convention Presents
ONO + Sydanie + Maximata + DJ Douvet
The Seahorse Tavern, 2037 Gottingen St, 10pm Friday May 25, 2018
ONO
This legendary, long-running avant-industrial outfit from Chicago move through themes of trauma and tragedy towards ecstatic sites of supreme power. With a performative lense, ONO tackle gospel's darkest conflicts, the cavernous pits of toxic masculinity, and insidious militarism, among many other horrifying realities. Armed with heavy rhythms, queered religious affect and a deep, dark smirk, ONO's live show creates a space of catharsis and reverence for contemporary pain. An idiosyncratic voice of resistance explicitly targeting the evils of America for over 30 years: as the world gets darker and darker, ONO only grow more striking and vital.
Sydanie
Often referred to as a supernatural rapper mom, Sydanie is a magnetic emcee with unheralded energy. A Toronto born, Jamaican-Trinidadian artist, Sydanie is basically levelling all expectations and setting the bar at new heights for women in the TO hip hop scene. Her impeccable production treatments run the spectrum from house to ambient dark trap. Nuanced beats lay the foundations for Sydanie to unpack her lyrical fireworks; ranging from meditative to incendiary, Sydanie's verses transmit a contagious momentum that results in seriously deep thrills for the listener.
Maximata
Beginning in 2005, Eric Diolola (aka Maximata) immersed himself in the underground sound art scenes throughout Cavite and Manila in The Philippines. The following decade would see him mentoring and collaborating with a wide range of artists including a who's-who of the Filipino avant-garde, Japanese noise pioneer Seidou Toshiyuki and Taiwanese pipa player Luo Chao Yun. Using anything from psps, gameboys, broken effects pedals, midi joysticks, indigenous instruments, toddler toys, casio , samples, circuit bending and laptops, Diolola explores a wide range of sounds and textures in his work. With Maximata, Diolola harnesses his mega powers to unleash woozy cuts of off-club beats. As danceable as it is disorienting, the music of Maximata showcases a restless mind intent on bending the rules of everything.
DJ Douvet
Douvet's music tastes were formed in his household with gospel, r&b and hip-hop being played all day by both his parents and his older sister. The commonality he heard was soul and rhythm: it was music that made you feel something. Douvet attempts to translate those feelings to the dance floor. Music can connect us to realities beyond our everyday experiences and it can also show us how to properly inhabit the present moment in order to get through and recover from pain. For Douvet, music presents an opportunity to heal and to escape. Oh, and also a chance to dance your ass off.
Accessibility notes: Accessible entrance at Portland Pl. accessible washroom, non-gendered washrooms