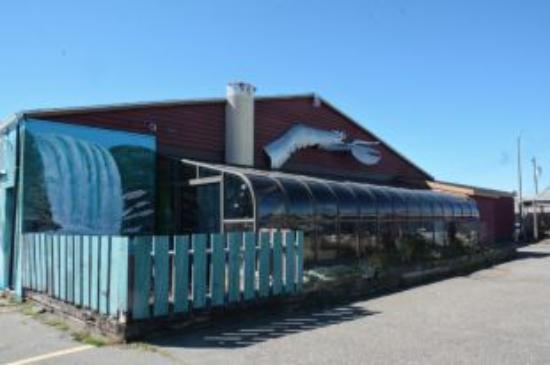 FRP&P proudly presents...
MY SON THE HURRICANE


for their first performance in the town Yarmouth!
Sat, Jun 23 at 9pm (Atlantic)
FREE RANGE Productions & Promotions is forcasting FUN so come dance up a storm with:

My Son The Hurricane (Toronto / St. Catharines, ON)

http://www.msthofficial.com/
https://www.youtube.com/watch?v=5jPzobWX9u8

MY SON THE HURRICANE is a 10-piece brasshop funk beast with the mantra: anything worth doing is worth overdoing. They are currently touring behind the new album, Is This What You Want?!, and their live performance "...will blow you away..." (NewCanadianMusic.ca) as the band mixes New Orleans style grooves with funk, jazz and hiphop.
DRFTR (Niagara-on-the-Lake, Ontario)

https://drftrmusic.bandcamp.com/
https://www.youtube.com/watch?v=qIPh_z2uVfE

DRFTR is Oscar Anderson-Shortt, a self-proclaimed kick in the ass and a horrible philosophy but his sock choices are better than yours (Band on a Couch). He doesn't claim to be a drifter but like wood you'd find on the shore - he'll be in Y-town opening your imagination for this magical night.
RaSquatch (Halifax, NS)

https://rasquatch.bandcamp.com/
https://www.youtube.com/watch?v=4YaQZM_lYgQ

RASQUATCH is a funk rock and reggae band who has developed an ever growing set list of songs for listening and, more importantly, for dancing! Its' members Gary Peacock (drums, vocals), Bill Dawe (guitar, bass, vocals), Ian Bryson (guitar, bass, vocals), Heather Slade (trombone, vocals), Tyler Crane (soprano saxophone) and Paul Moore (guitar, vocals) are veterans of bands that have played throughout Canada.
EARLY BIRD TIX: $6.00 + fees
BIRD AT DOOR: $10.00 before 11:00pm & $12.00 after
~ Free Range Productions & Promotions ~
Producing & Promoting Art & Music Events for All to Experience & Enjoy.