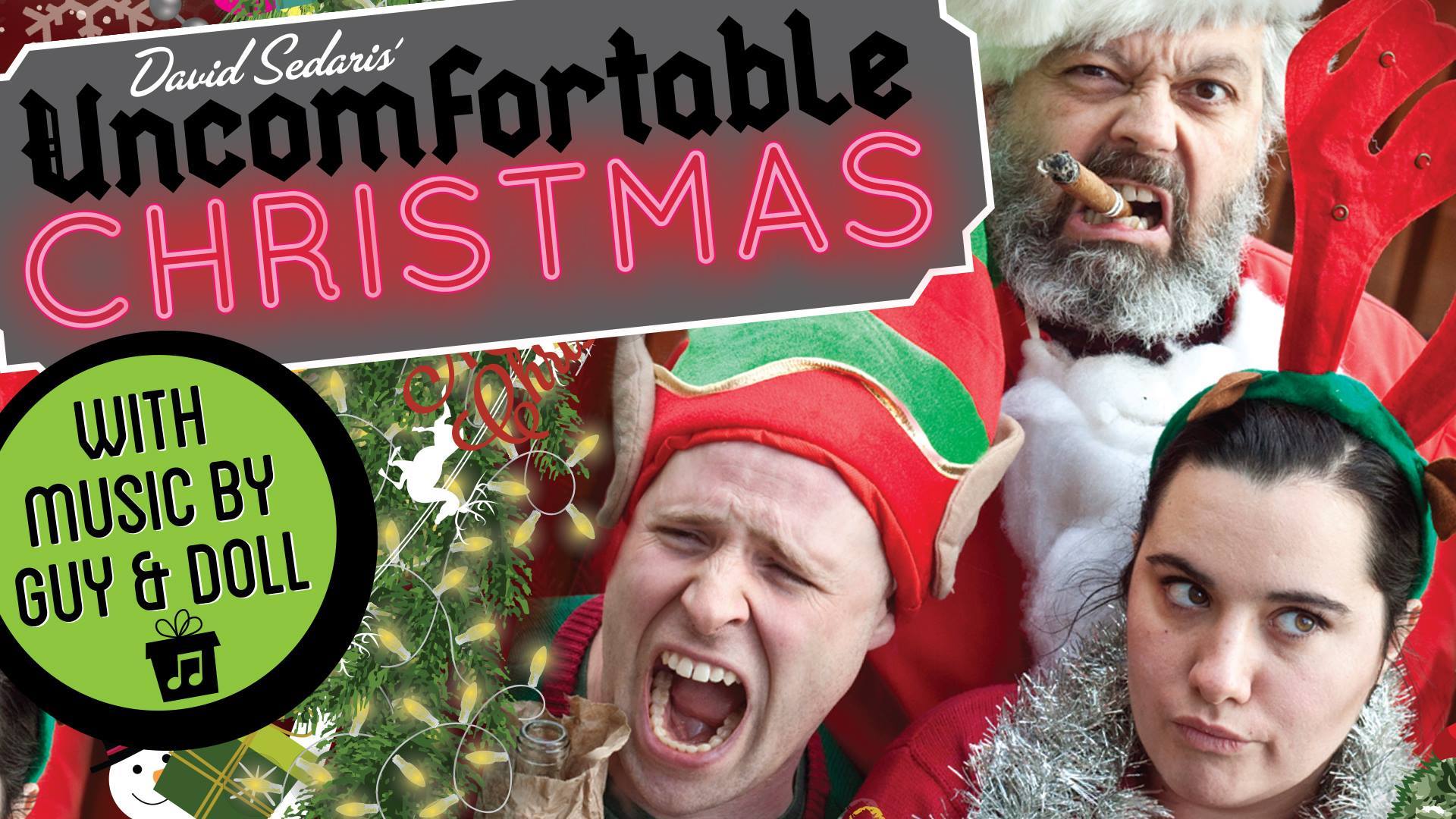 Kick at the Dark Theatre presents the return of
David Sedaris' Uncomfortable Christmas
Wed, Dec 6, 2017 at 8pm - Sun, Dec 10, 2017 at 2pm
"My kind of X-mas show" "Made me cry with joy"
"Dark humor, satire, brilliant acting… don't miss this show!"
Best of Theatre 2016 - Local Xpress

Kick at the Dark Theatre Company gleefully announces the remount of their holiday treat David Sedaris' Uncomfortable Christmas. Lightly reworked for a new venue, this "Christmas show for the rest of us" features three Christmas-themed monologues by humorist, author and radio contributor David Sedaris, along with songs performed by local duo Guy & Doll. This unique holiday show is an irreverent, darkly comic take on the extremes that people will go to at Christmastme. It runs Dec 6-10th at The Bus Stop Theatre (2203 Gottingen Street, Halifax), with shows at 8pm, and several weekend matinees.
David Sedaris' work is well known in the literary and humour worlds, and here, Kick at the Dark introduces us to three of Sedaris' grinch-iest characters – a frustrated theatre critc savages an elementary school Christmas pageant, a TV executve turns a town against one of their own so she can make the ultmate Christmas special, and a wealthy man gives new meaning to "Christmas Means Giving" in an increasingly desperate competton with a neighbour for the most meaningful Christmas card. Performed by Guy & Doll, David Sedaris' Uncomfortable Christmas also features hilarious original Christmas songs by Jonathan Coulton, The Doubleclicks, Rachel Lark, and Tim Minchin.
"We're thrilled to be returning to David Sedaris' hilarious Christmas stories," explains director and performer Andrew Chandler. "During our run last year, so many patrons exclaimed how much they appreciated seeing a show that poked fun at the traditonal overdone holiday fare and made them laugh at some ridiculous characters, yet stll leave them feeling uplifed and inspired to celebrate the best of the Holiday season."

This performance is recommended for those aged 13 and up, and runs approximately 75 minutes.

Performed by Katerina Bakolias, Jamie Bradley, Andrew Chandler
Directed by Andrew Chandler & Jamie Bradley
Music by Guy & Doll
Produced by Katerina Bakolias & Andrew Chandler
Stage Management by Jessica Oliver
Set by Morgan Melnyk
Lighting Design by Matt Downey

Jamie Bradley and Andrew Chandler appear by permission of Canadian Actors Equity Association.
Stories by David Sedaris are read with the permission of Don Congdon Associates, Inc. © 1997 by David Sedaris.