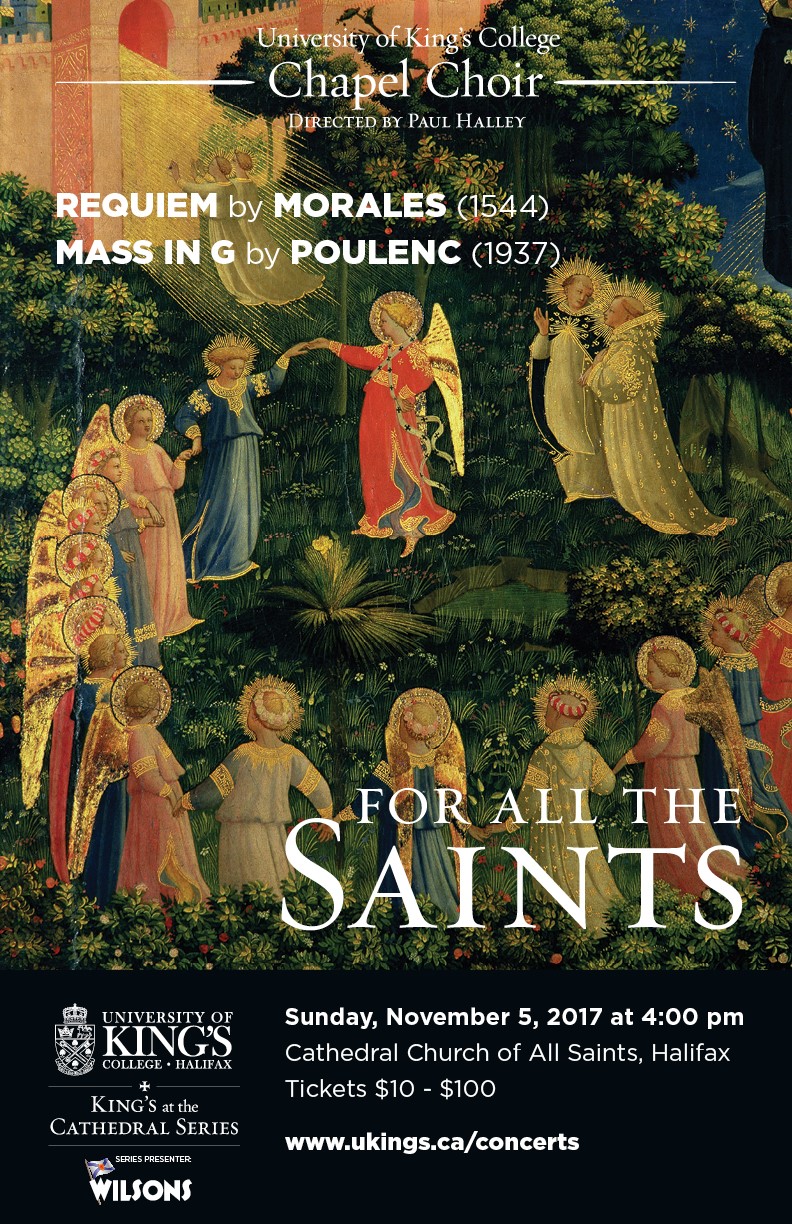 For All The Saints 2017
King's Chapel Choir - Requiem by Morales (1544) and Mass in G by Poulenc (1937)


directed by Paul Halley

This annual tribute to those who have gone before and the opening concert of the 2017-18 King's at the Cathedral concert series features two pieces composed 400 years apart. The first is the Requiem (Missa pro defunctis / Mass for the dead) by Cristóbal de Morales (1544). Morales, a Spanish composer born around 1500, was recognized in his lifetime as one of the greatest composers in Europe. His contemporary Juan Bermudo, a friar and music theorist, described Morales as "the light of Spain in music". Morales's Requiem is a work of impeccable structure supporting a floating, ethereal beauty. In past All Saints performances, the Chapel Choir has presented the requiem masses of Victoria (1603, performed in 2013) and de la Rue (c. 1500, performed in 2014 as a Canadian premiere of a 500-year-old work). The Chapel Choir therefore continues its study of the earliest polyphonic requiem mass settings with this mid-16th century masterwork out of Spain.

In the same concert, the Chapel Choir will complete its performance cycle of the three canonic 20th-century mass settings for unaccompanied choir. Having performed two settings in the past (the Mass for Double Choir by Swiss composer Frank Martin performed in 2015 and the Mass in G minor by Vaughan Williams performed in 2016), this year the choir completes the circle with the Mass in G major by Francis Poulenc. This Mass was Poulenc's first major liturgical work. It came out of a religious reawakening that the French composer experienced in 1936 following the tragic death of a friend and a visit to the shrine of Rocamadour. One year after his experience at Rocamadour, Poulenc composed his Mass in G. In setting the ancient text of the church, Poulenc found his musical and spiritual home and continued to create sacred works of deep and lasting beauty for the rest of his life.