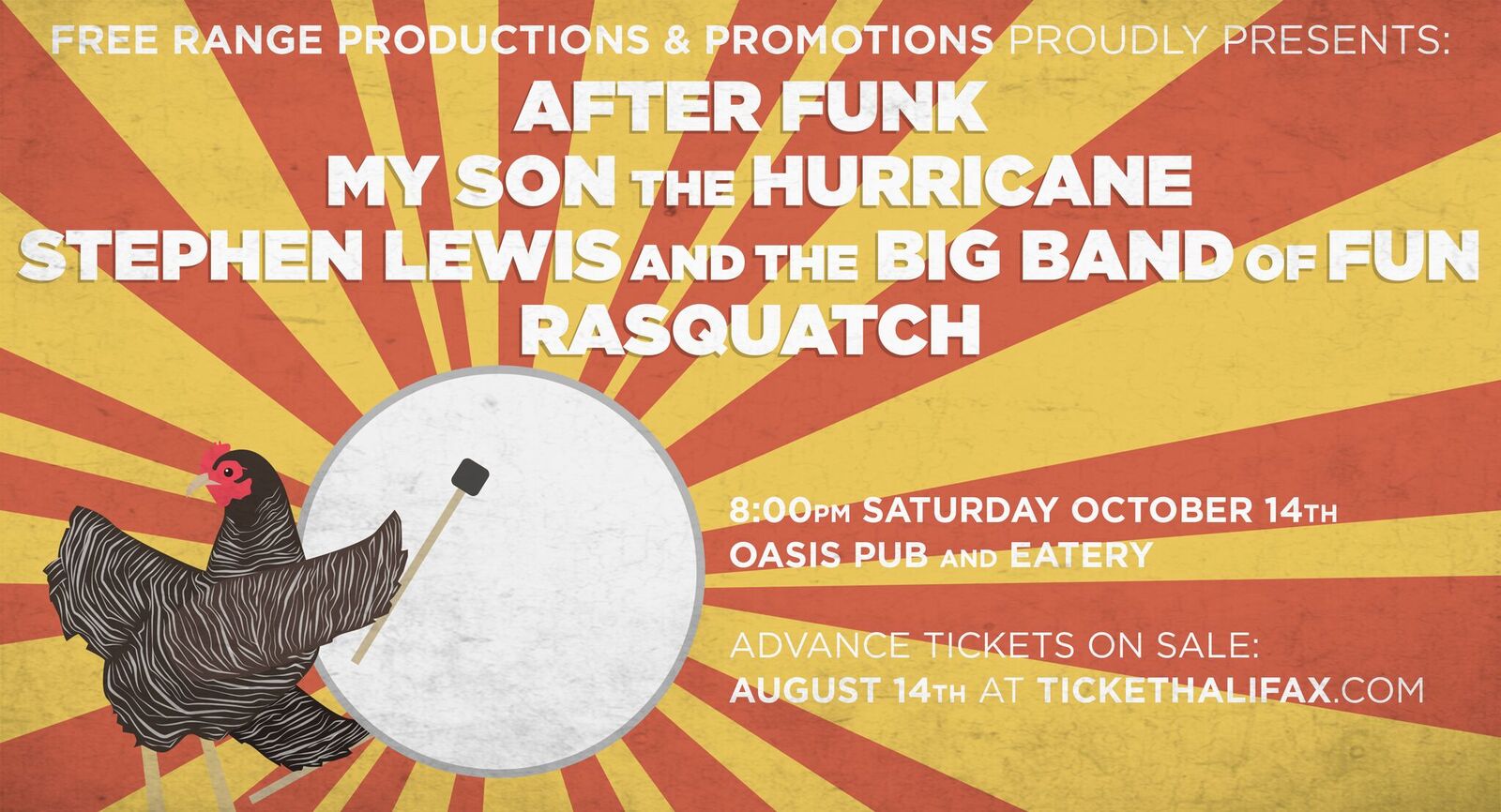 FRP&P proudly presents...
AFTER FUNK · My Son the Hurricane · Stephen Lewis & the BIG band of FUN · RaSquatch


...for a FUNKY night of FUN!
Sat, Oct 14, 2017 at 8pm (Atlantic)
Are you in a funk? In desepreate need to shake your booty and smile? GOOD NEWS! There's no need to wait for Summer festivals for your happiness fix because FREE RANGE Productions & Promotions has your means to get funky, move your body and enjoy yourself this Aumtum with:

After Funk (Toronto, ON)

http://www.afterfunk.ca/
https://www.youtube.com/watch?v=cI5fdaz4jZM

AFTER FUNK is a fun filled, soul driven, funk-rock explosion.
Hailed as "The grooviest band north of the border" (Live For Live Music), the Toronto based funk family have been blazing a trail through the North American music scene leaving only happy hearts and dancing feet in their wake.

My Son The Hurricane (Toronto / St. Catharines, ON)

http://www.msthofficial.com/
https://www.youtube.com/watch?v=5jPzobWX9u8

MY SON THE HURRICANE is a 14-piece brasshop funk beast with the mantra: anything worth doing is worth overdoing. They are currently touring behind the new album, Is This What You Want?!, and their live performance "...will blow you away..."(NewCanadianMusic.ca) as the band mixes New Orleans style grooves with funk, jazz and hiphop.

Stephen Lewis and The BIG Band Of FUN (Fredricton, NB)

https://bigbandofone.bandcamp.com/
https://www.youtube.com/watch?v=udD5fXx1PL0

STEPHEN LEWIS is a "...naturally funky individual..." (The East) who live records electric guitar, acoustic guitar, bass guitar, beatbox, and vocals with his loop based BIG BAND of FUN trio members which includes Jonah Haché (looping, guitar, keys, vocals, effects) and Marco Lebreton (drums).

RaSquatch (Halifax, NS)

https://rasquatch.bandcamp.com/
https://www.youtube.com/watch?v=4YaQZM_lYgQ

RASQUATCH is a funk rock and reggae band who has developed an ever growing set list of songs for listening and, more importantly, for dancing! Its' members Gary Peacock (drums, vocals), Bill Dawe (guitar, bass, vocals), Ian Bryson (guitar, bass, vocals), Heather Slade (trombone, vocals), Tyler Crane (soprano saxophone) and Paul Moore (guitar, vocals) are veterans of bands that have played throughout the Maritimes and Canada.


EARLY BIRD TIX: $16.00 + service fees
REGULAR BIRD TIX: $21.00 + service fees
BIRD at DOOR TIX: $31.00 flat


A launch party for the brand spanking new event creation, organization and facilitation company
~ Free Range Productions & Promotions ~
brought to you by
Dawn E. Penney
Producing & Promoting Art & Music Events for All to Experience & Enjoy.