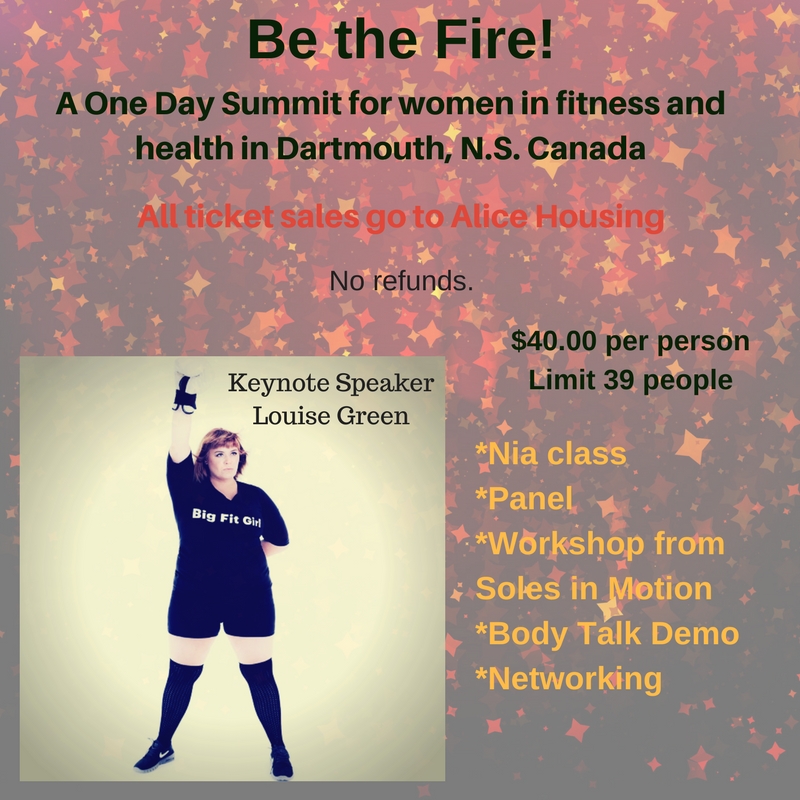 Be the Fire! One Day Summit for Women only
Sat, Sep 9, 2017 from 10am - 5pm (Atlantic)
All ticket sales go to Alice Housing. No refunds.
Be the Fire is featuring Keynote Speaker and Fitness Professional Louise Green, Author of Big Fit Girl.
The day starts with Nia by Amy Marshall and then we listen to Louise Green share her story of challenges and successes.
There's a panel discussion with women fitness professionals, a workshop by Soles in Motion and a session by a Body Talk Practitioner.
There's time for networking and perusing two vendor tables. We're giving away a registration to Activate Her Awesome Retreat (October 24th-27th, 2017 location TBA). https://activateherawesome.ca/
Produced by Tara MacDonald Fit Club, Inc. Brought to you by Encompass Coaching, Liz Burton Health & Fitness. Sponsors GroPro.ca, Sage & Sweetgrass Salon, One Call Paving Ltd., and Soles in Motion.
Saturday September 9th, 2017 – Your ticket includes entry to all these events. Water and some snacks will be provided by the hotel. You are encouraged to use the local restaurants in Dartmouth Crossing for lunch or bring your own food. We will stick to the timing of this schedule.
10:15am Nia with Amy Marshall – all levels welcome to this movement class done barefoot
11:30am Keynote with Louise Green, Author Big Fit Girl http://www.louisegreen.ca/
Break 12:45pm-1:30pm
1:30pm-2:45pm Panel Discussion: Tara MacDonald moderating.
Louise Green, Keynote Speaker, Liz Burton Personal Trainer, Terri Roberts, Nova Scotia Fitness Association, Stacy Chesnutt, Race Director Sole Sisters Women's Race Series and Shannon Read, Fitness Sport & Nutrition Coach.
2:45pm-3:30pm Jen Estabrooks, Soles in Motion
3:30pm-4:30pm Erica Spring de Sousa, Body Talk Practitioner
4:30pm-5pm Networking and wrap up
Table: Arbonne Independent Consultant with Rayanne Hunter
Table: Louise Green books for sale
Thanks to Spider Video and Basil AV for the help with setting up at The Hampton Inn Dartmouth Crossing.