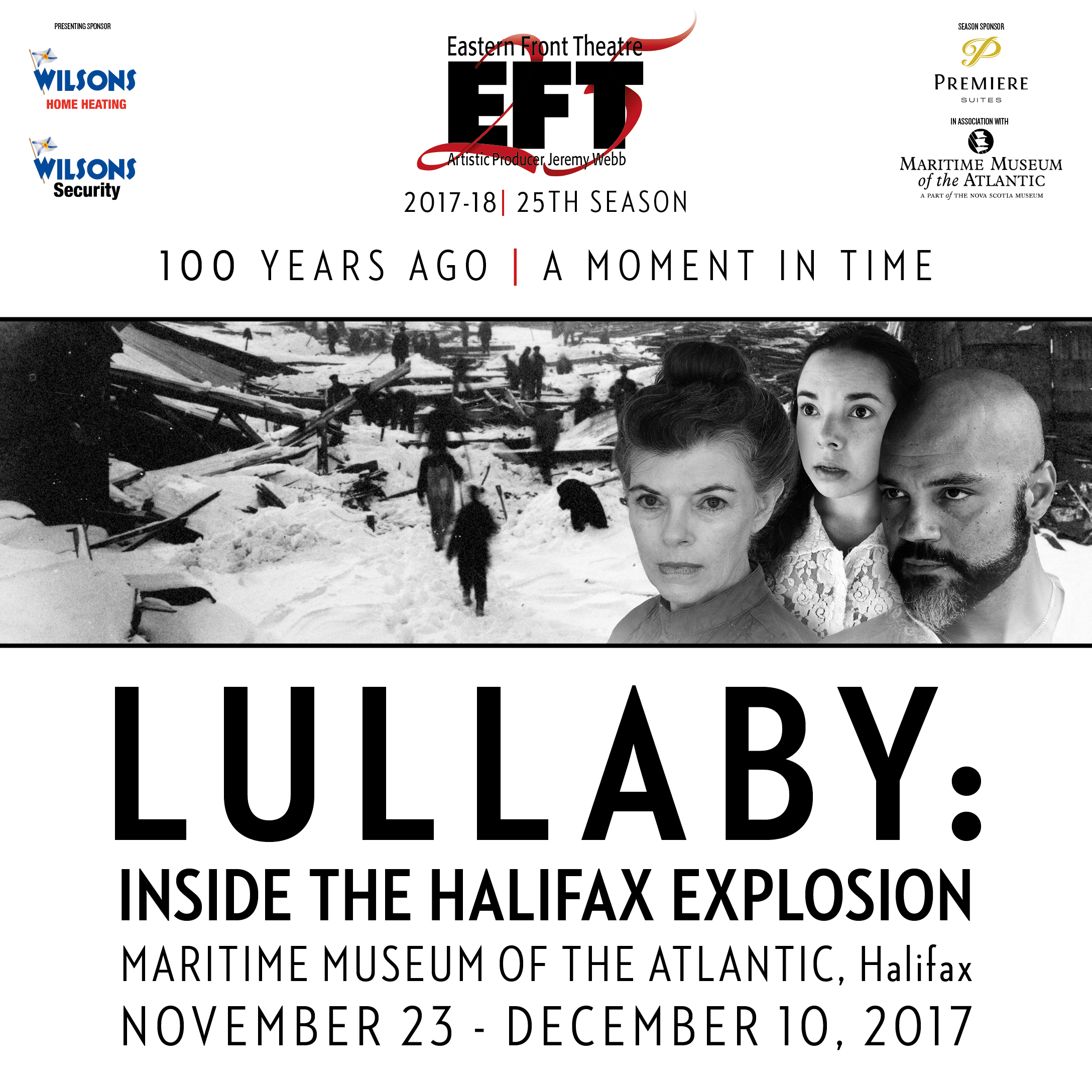 Eastern Front Theatre presents The World Premiere of
Lullaby: Inside The Halifax Explosion


by Karen Bassett
Wed, Nov 22, 2017 at 7:30pm
Lullaby: Inside The Halifax Explosion is a dramatic, educational and emotive experience that explores little-told stories of the events of Dec 6, 1917.
It is a day that has become synonymous with tales of heroism, survival and of how a community fought against the disaster and the elements. It is a tale of how Canadians emerged from under terrible conditions to help each other.
It is exactly one hundred years after the two ships collided, causing a gigantic and devastating explosion. The story has been told many, many times from a variety of angles.
The plays three diverse characters meet, moments after the explosion and we follow them as they comes to terms with, not only the situation they find themselves in, but who they are stranded with.
As the characters share their stories, experiences and history, we the audience experience the tribute to the diverse communities and cultures in Nova Scotia.
Lullaby: Inside The Halifax Explosion is a theatrical event, combining Atlantic Canadian content and story-telling, with historical expression and accuracy, and educational outreach.
It's a story of survival and growth, of destruction and hope. But, this story is not born of fiction: it happened. It's historical fact.
This is an important celebration of the diversity and cultural fabric of the country.
Lullaby: Inside The Halifax Explosion will become the major theatrical commemoration of this event.
HALIFAX PERFORMANCE SCHEDULE
Week One
Nov 22nd - 7.30pm - Preview
Nov 23rd - 7.30pm - OPENING
Nov 24th - 7.30pm
Nov 25th - 7.30pm
Nov 26th - 2pm
Week Two
Nov 28th - 10am - student matinee
Nov 29th - 11am - student matinee (note this school matinee is slightly later)
Nov 30th - 7.30pm
Dec 1st - 7.30pm
Dec 2nd - 2pm
- 7.30pm
Dec 3rd - 2pm
Week Three
Dec 5th - 11am - student matinee (note this school matinee is slightly later)
Dec 6th - 10am - student matinee
- 7.30pm - Special Commemorative Evening
Dec 7th - 7.30pm
Dec 8th - 7.30pm
Dec 9th - 2pm
- 7.30pm
Dec 10th - 2pm