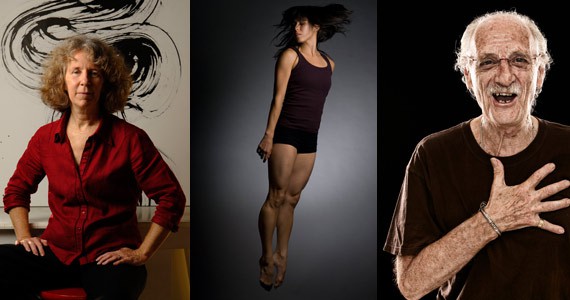 1313 Music Association Presents
Brush/Movement/Sound


with Barbara Bash, Jerry Granelli, Susanne Chui, Sara Coffin, Jacinte Armstrong and Kathleen Doherty

"Brush/Movement/Sound brings the best of many worlds together in a wonderful mix of visual, aural and physical accomplishments." — The Coast

For the past few years, jazz percussionist Jerry Granelli, calligrapher and visual artist Barbara Bash and dance artist Susanne Chui have collaborated extensively, stretching the boundaries of improvisation and interdisciplinary performance.

True masters in their fields, these three performers effortlessly transcend the conventional barriers between disciplines to present an experience that can be chaotic and kinetic one moment, subdued and contemplative the next. For this very special show Jerry, Barbara and Susanne will be joined by three more of the region's most accomplished dancers, Jacinte Armstrong, Sara Coffin and Kathleen Doherty.

Previous incarnations of Brush/Movement/Sound have dazzled audiences — this performance will be no exception. Don't miss it!