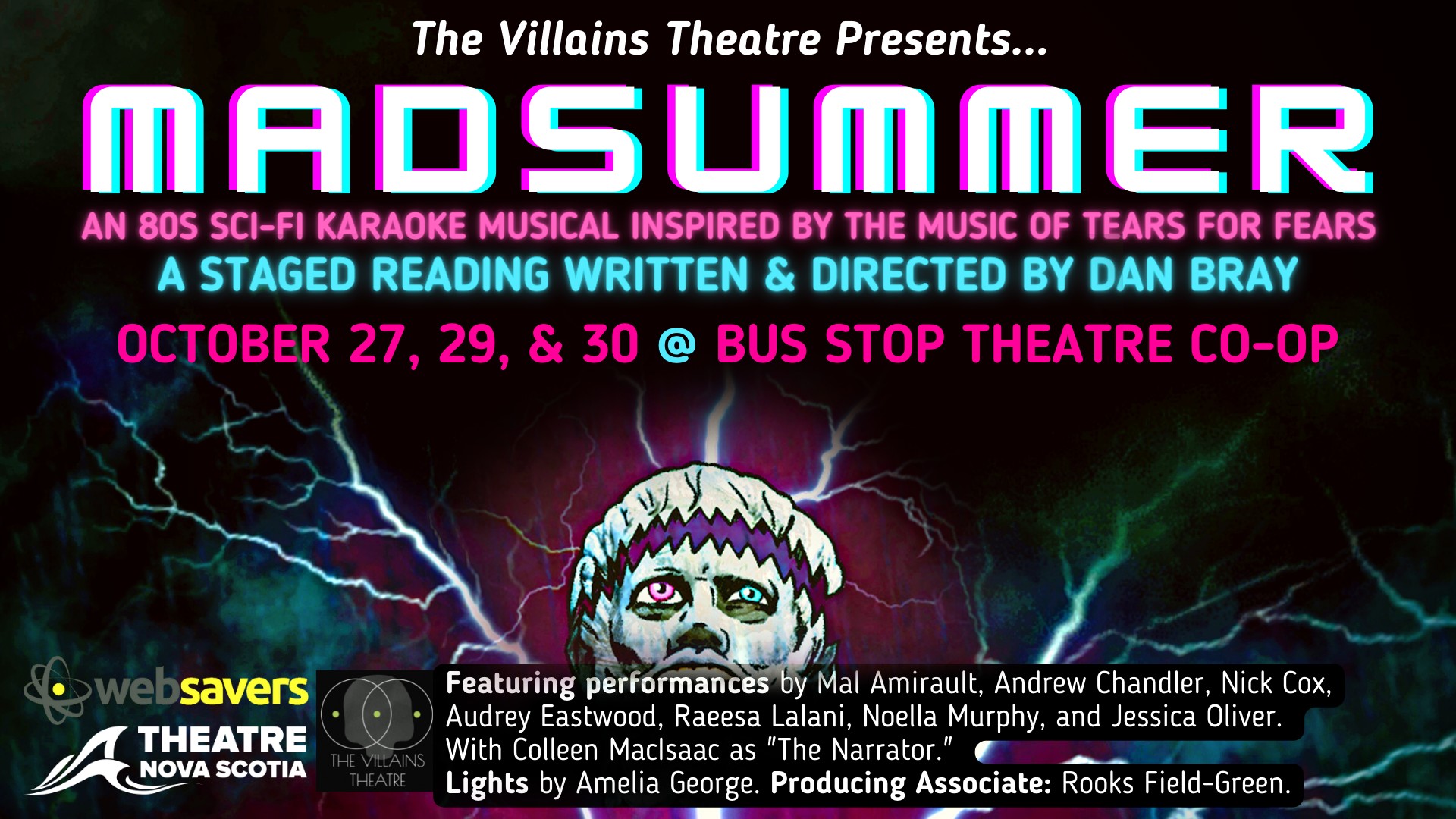 MADSUMMER: A Halloween Sci Fi Karaoke Musical
From the strange little goblins who brought you Zomblet, Knight of the Bat, Hansel und Gretel, and Shakespeare's Time Machine...
Join The Villains Theatre for our newest Halloween offering...

MADSUMMER: a staged reading 80s sci-fi karaoke musical by Dan Bray!
ABOUT THE SHOW
After getting lost in the forest, lovers Ramona and Seymour find themselves in the House of Dr Dream: a deranged sleep scientist who believes that the best hits of the '80s can be used to usher forth the Greek Gods and - perhaps - even the end of the world.
Inspired by A Midsummer Night's Dream - not to mention Rocky Horror Picture Show (and yes, perhaps, just a tiiiiny dash of Mamma Mia!) - this radical, new, balls-to-the-wall staged reading is the perfect way to kick off the Halloween Season - not to mention, honour the best band of the 1980s... Tears for Fears ("Everybody Wants to Rule the World", "Mad World")!

Stick around after the performance for a open KARAOKE DANCE PARTY! After the performance on closing night (Sunday October 30th 8pm show), we will have a COSTUME CONTEST!

ACCESSIBILITY
Our venue, The Bus Stop Theatre, is wheelchair accessible with gender-neutral washrooms, and has a bar that will be serving alcoholic and non-alcoholic drinks. For further venue accessiblity notes, please click here. This performance includes visual descriptions of the performers and uses narration and sound effects to help tell the story. If you would like to book a touch tour before any show, please contact us at info@villainstheatre.com or call 902 406 6262. Please click here for our list of content warnings for the production. We will have a physical copy of the script available at the box office for anyone who would like to read from a copy as an accessibility measure. A virtual streamed, closed captioned performance will be available from Saturday Oct 29 until midnight on October 31. If you have any questions about accessiblity please contact us at info@villainstheatre.com or call 902 406 6262.
THE TEAM
Written and Directed by Dan Bray
Stage Management and Associate Producing by Rooks Field-Green
Lighting Design by Amelia George
MADSUMMER stars
Mal Amirault as Seymour
Andrew Chandler as Dr Dream
Nick Cox as J.A.C.k
Audrey Eastwood as Bobbi
Raeesa Lalani as Special Agent Stauss
Noella Murphy as Ellen
Jessica Oliver as Ramona
& Colleen MacIsaac as "The Narrator"


The Villains Theatre wants to acknowledge that the title of this show may have hurt members of the Mad community. We are profoundly sorry for any pain we have caused. For more information on the Mad Pride movement and its history, please visit the following links:
Finkler, L. (2009). Mad Pride: A movement for social change. Consumer/Survivor Information Bulletin, 398, pp. 2-3.
Reaume, G. (2008). A history of Psychiatric Survivor Pride Day during the 1990s. Consumer/Survivor Information Bulletin, 374, pp. 2-3.
Ruth Ruth (2009). Mad Pride. Consumer/Survivor Information Bulletin, 398, pp. 1-2.

The Villains Theatre is grateful to work and create art in Kjipuktuk, Mi'kma'ki: the ancestral, unceded, and unsurrendered land of the Mi'kmaq people.

A huge shout out to our sponsor WEBSAVERS!
The Villains Theatre has been producing strange new works and adaptations in Kjipuktuk/Halifax and across Mi'kma'ki since 2009. We are run by Artistic Director Dan Bray and Artistic Producer Colleen MacIsaac. For more info: villainstheatre.com