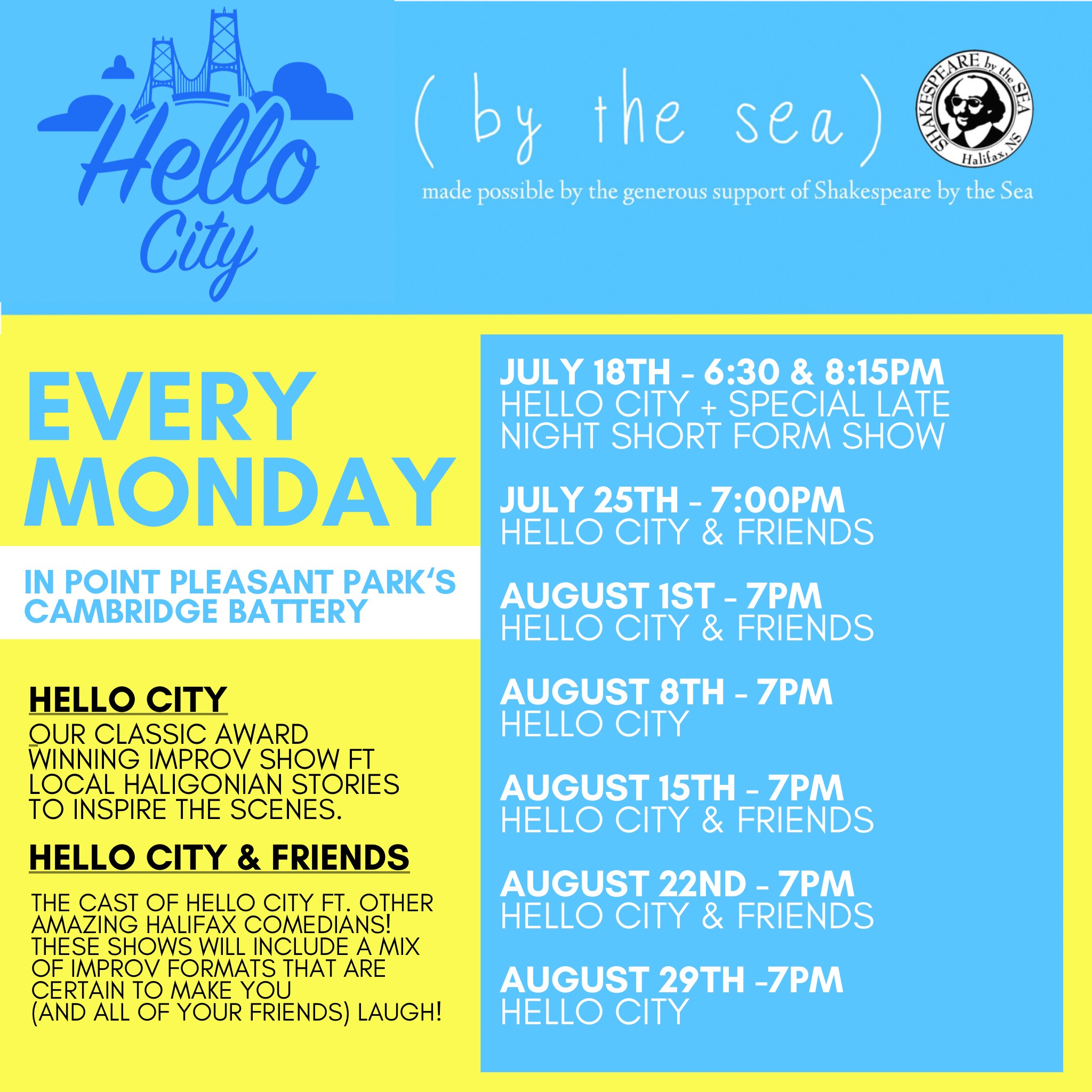 Hello City By The Sea
Mon, Jul 18, 2022 at 6:30pm - Mon, Aug 29, 2022 at 8:30pm
Made possible by generous support from Shakespeare by the Sea - this summer catch award winning Improv Company Hello City on Monday nights at Point Pleasant Park's Cambridge Battery!
HELLO CITY BY THE SEA JULY 18TH - AUGUST 29TH, 2021
EVERY MONDAY THIS SUMMER - Family Friendly but PG advised!
PWYC - $10, $15, $20 or there's limited amount of SEASON PASSES available
If it's raining and we have to cancel a show, you will either have your tickets refunded to you or we can exchange for a future Monday performance.
ACCESSIBILITY NOTE
We will have a golf cart on hand for those who need assistance getting in and out of the park. The Cambridge Battery is an approximately 10 minute walk into Point Pleasant Park with some slight hills. Please email us at hellocityimprov@gmail.com if you'd like to arrange a Golf Cart pick up time.
We recommend entering from the Tower Road parking lot and following the main path that takes you straight to the battery. You will take a slight right in the natural curve of the main path and the cambridge battery will be a bit further down the hill and to your left!
See you there, Halifax!
xoxo,
Hello City
10% of funds will be donated to local organizations and charities.
Hello City is Halifax's award winning improv company best known for their show HELLO CITY where they invite Haligonians to come tell stories about their life in Halifax which is then used to inspire the scenes. For more information visit hellocityimprov.com.
Point Pleasant Park is located in Mi'kma'ki, the unsurrendered and unceded territory of the Mi'kmaq people. Hello City acknowledges that we are guests on this land and are grateful to get to live and play here. Hello City wants to ensure that our shows are accessible to all. Please email hellocityimprov@gmail.com if you'd like to attend the show, but are unable to at this time purchase a ticket.