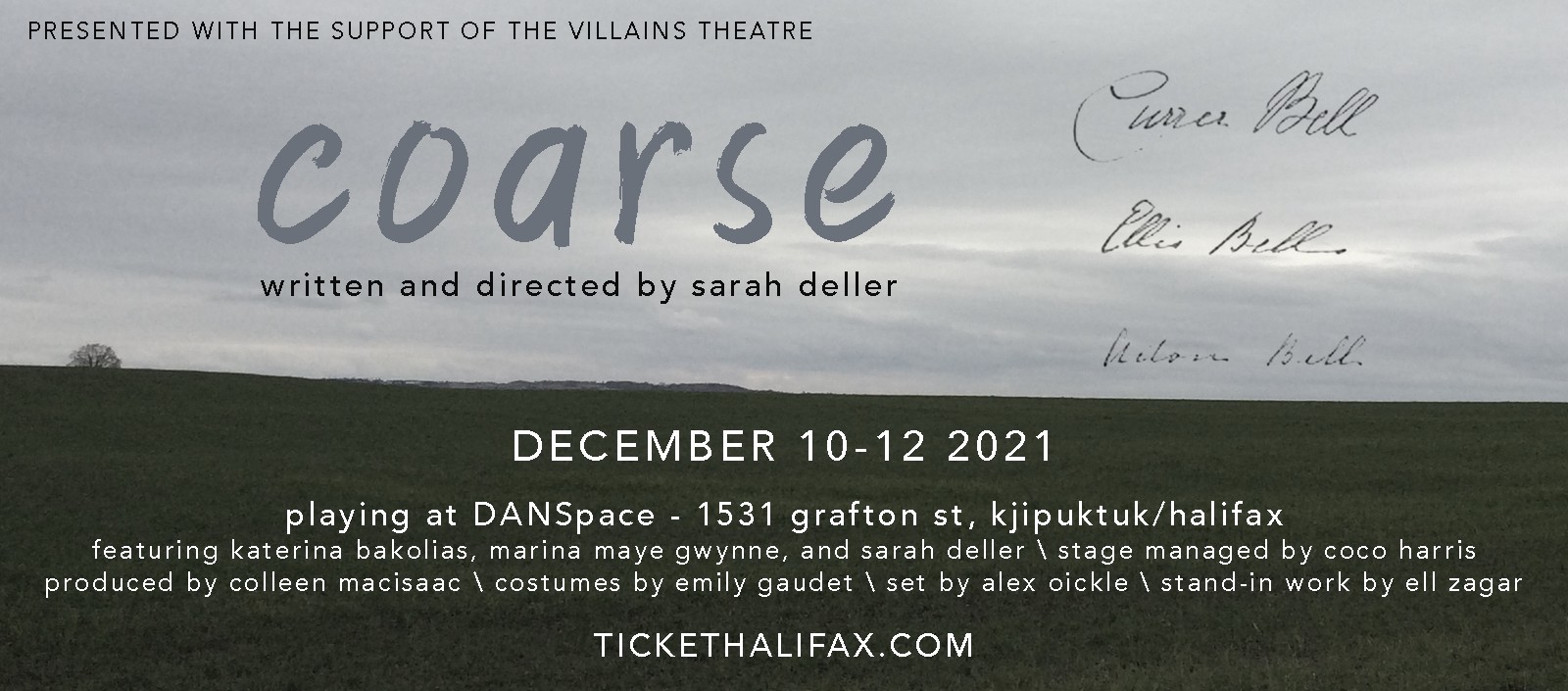 Coarse
COARSE
Written and Directed by Sarah Deller
Presented with the support of The Villains Theatre.
1845, Yorkshire: When three ambitious sisters resist monotony, they write some of the strangest and most successful novels of the 19th century. This week, join us on a whirlwind journey into the minds of the Brönte Sisters.
Featuring Katerina Bakolias, Sarah Deller, and Marina Maye Gwynne
Stage Managed and Lighting Designed by Coco Harris
Produced by Colleen MacIsaac
Costumes by Emily Gaudet
Desks created by Alex Oickle
Stand-in work by Ell Zagar
Script development by Katerina Bakolias, Ursula Calder, Sarah Deller, and Marina Maye Gwynne
The venue is wheelchair accessible (though a heritage building and not up to ideal standards), on a third floor accessed by an elevator (with stairs as an alternative options). On the third floor there are two gender-neutral, accessible washrooms. If you have any particular access needs, please email info@villainstheatre.com for details on our accessibility plan.
This production takes place in Kjipuktuk, the Great Harbour, which has been and continues to be the traditional, unsurrendered, and unceded territory of the Mi'kmaq people.
This territory is covered by the "Treaties of Peace and Friendship" which Mi'kmaq and
Wolastoqiyik (Maliseet) people first signed with the British Crown in 1725.
These treaties did not deal with surrender of lands and resources but in fact recognized Mi'kmaq and Wolastoqiyik (Maliseet) title and established the rules for what was to be an ongoing relationship between nations.
Our presence here is a result of the systems of colonialism, gentrification, and displacement. As we reflect on how we benefit from the use of this land, we can consider: what are we doing to reconcile our shared history, in order to ensure justice and equity?
We are all treaty people. By learning about the treaties that we are a part of, we can take action to ensure that we and our governments abide by and respect these treaties.

We are grateful to be able to live, work, play, and create on this land.