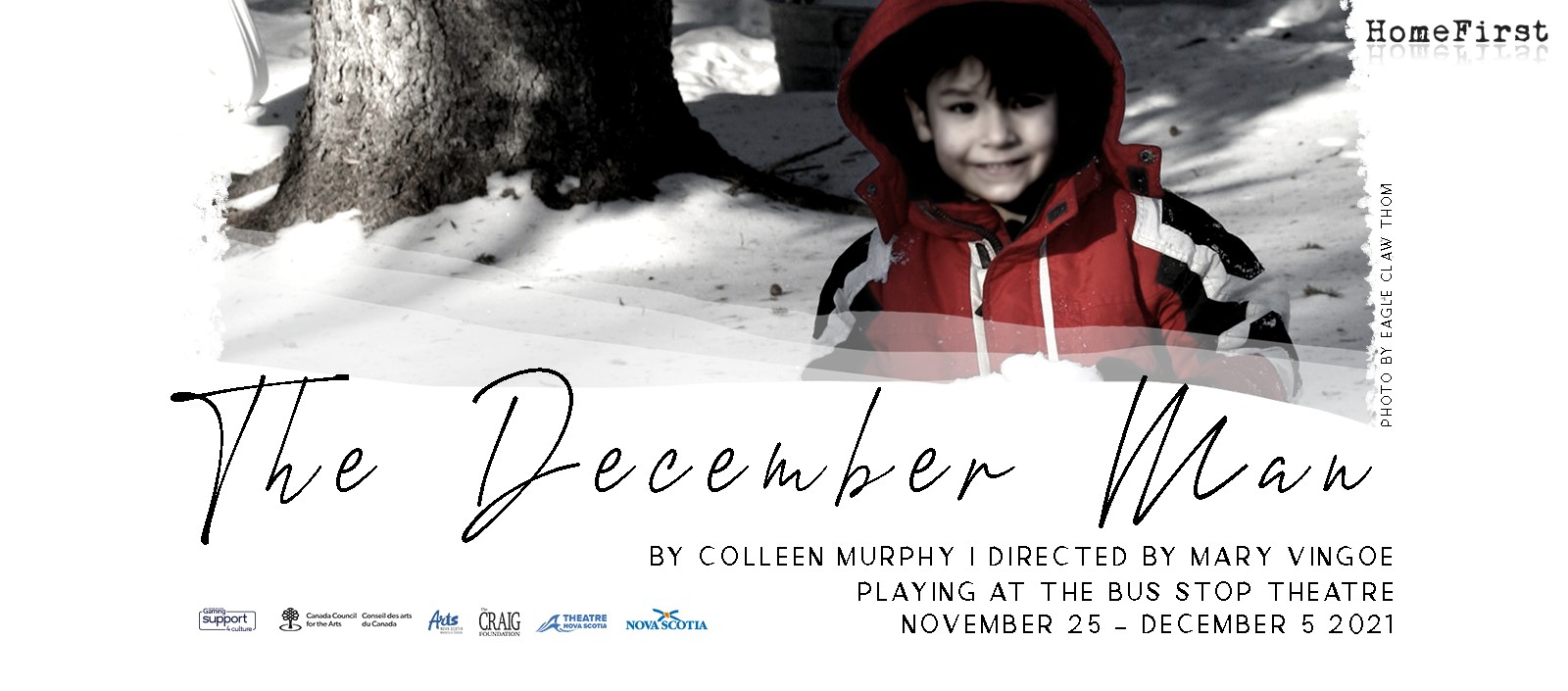 The December Man by Colleen Murphy
Thu, Nov 25 at 8pm
ASL interpreted
Audio Description
Active Listeners
Live Theatre
The December Man by Colleen Murphy
Presented by HomeFirst Theatre
The Bus Stop Theatre
November 25th to December 5th, 2021
Tickets: Regular $25.00, Underwage/Accessible Price $15.00
The December Man won the Governor General's Award for Drama in 2007 and is inspired by one of the most tragic and significant incidents in our country's history, the École Polytechnique Massacre on Dec 6th, 1989. Murphy's play deals with the fate of a bystander who witnessed the event and could/did not act. The December Man is the story of how he and his family were tragically affected. For those of us who remember it vividly, this play helps us to understand the terrible aftermath that still lives with us. For a generation that wasn't born when it took place, The December Man is a revelatory experience. With mass shootings on the rise and gender-based domestic violence at an all-time high during Covid-19, this examination of 'the bystander effect' in The December Man is startlingly relevant to Nova Scotians and beyond.
Cast
Zach Faye as Jean Émile Fournier
Martha Irving as Kathleen Fournier
Hugh Thompson as Benoît Fournier

Creative Team
Director: Mary Vingoe
Production Stage Manager: Jeana MacIsaac
Assistant Stage Manager: Sarah Wakely
Set Design: Sue LePage
Costume Design: Krista Levy Odlin
Lighting/Projection Design: Holly Meyer-Dymny
Sound Design: Steven Naylor
Technical Director: Matt Downey
Associate Producer: Rebecca Wolfe
Outreach: Kiana MacDonnell
HomeFirst is thrilled to be partnering with the YWCA and December 6th Fund for this production. We have an exciting panel discussion in the works that will engage community members around the topics of the play. All are welcome to attend this event with details coming soon! Follow us on social media or sign up for our newsletter here to be there first to know more about this event.
HomeFirst Theatre is honoured to support the work of the YWCA's December 6th Fund in a joint-fundraiser raffle of 'SHATTERED', an original stained glass inspired by the memory of the fourteen women lost in the École Polytechnique Massacre on December 6th, 1989. To get your tickets visit, https://www.rafflebox.ca/raffle/homefirsttheatre.
Tickets are being sold online until two hours before curtain. Tickets are CASH ONLY at the door. To contact the box office via email at homefirsttheatre@gmail.com.
Accessibility
Our team is working very hard to make this production as accessible as possible to all our audience members with consultation from the disability justice community. Please notify us if you are attending an accessible performance in order to access the service being offered, so we may reserve you optimal seating for the performance. The Bus Stop Theatre is fully accessible via wheelchair. If you plan on attending with a support person, a ticket can be arranged for them free of charge. If you have any seating needs, please email ahead of time so we can make the appropriate arrangements. There will be an active listener at each performance ready to listen and provide you with resources if you need further assistance. Please note that our active listeners aren't trained counsellors or therapists, but community members willing to hold space for those who need to talk.
Please reach out to our box office at homefirsttheatre@gmail.com to ensure you have what you need to enjoy the performance or with any questions. We are happy to assist you.
Please see the following show schedule that includes all our accessible features:
Thursday, Nov 25th @ 8:00 pm (Preview)
Friday, Nov 26th @ 8:00 pm (Opening)
Saturday, Nov 27th @ 8:00 pm
Sunday, Nov 28th @ 2:00 pm
Sunday, Nov 28th @ 8:00 pm
Tuesday, Nov 30th @ 8:00 pm
Wednesday, Dec 1st @ 8:00 pm
Thursday, Dec 2nd @ 8:00 pm (Heightened Narration)
Friday, Dec 3rd @ 8:00 pm
Saturday, Dec 4th @ 2:00 pm
Saturday, Dec 4th @ 8:00 pm
Sunday, Dec 5th @ 2:00 pm
Content Warning
This play is a work of imagination using the École Polytechnique Massacre on Dec. 6th, 1989 and the events around it as a point of departure. The École Polytechnique Massacre was a mass shooting of 14 women studying engineering at the École Polytechnique. In the play, there is Discussion and depiction of suicide, symptoms of someone living with PTSD and depression, first-person description of the Polytechnique Massacre and gun violence, discussion of violence against women, discussion of violence against children, description of blood, discussion of drugs, strong language and allusions to alcohol abuse.
Covid-19 Protocols
To gain admission to HomeFirst's Presentation of The December Man, all patrons eligible for vaccination must be fully vaccinated for Covid-19 two weeks prior to the date of the presentations you would like to attend, in adherence with public health guidelines. Official vaccination records along with a piece of ID will be checked by front-of-house staff on the night of the performance. Patrons who are unable to be vaccinated due to a pre-existing medical condition are exempt, with proof. Masks are to be worn inside the Bus Stop Theatre at all times unless eating or drinking.
Please note, if patrons are unable to provide proof of vaccination this access will be denied and no refunds will be issued.