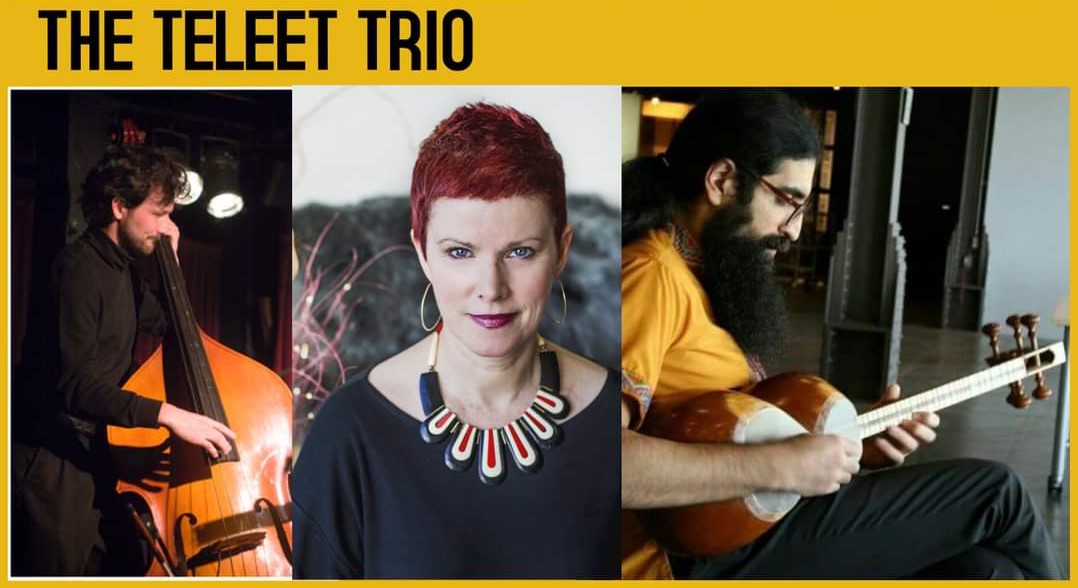 The Teleet Trio: EXQUISITE
Sat, Sep 25, 2021 at 7:30pm
The Teleet Trio presents EXQUISITE

Folk music from around the world with exquisite improvisation, exotic instruments, and a special tribute to the people of Afghanistan.

Janice Isabel Jackson – singer
Chris Churchill – acoustic and electric bass
Mohammad Sahraei – setar, tar, daf, robab, dotar, kamanche

In vernacular Farsi the word Teleet is used to imply a blend, mix, jumble, or a collage of different, even unlikely, ingredients. The word is borrowed from Persian cuisine. The Teleet Trio is the embodiment of programming music which is a collage of styles and innovative approaches to traditional music from diverse regions of the world with original tunes added to the mix. The instrumentation is also a mix of western instruments with those from the Middle East (specifically Iran and Turkey). Canadian, Middle Eastern, Appalachian Mountain, and Bulgarian folk songs mixed with ancient Swedish cattle calls, this concert also features a special Afghan song in solidarity with the people of Afghanistan. From classical to folk singing the scope of their song choices range from the Appalachian Mountains to the farmlands of Iran. The Teleet Trio is an expression of the desire to reinterpret musical styles with exciting and surprisingly refreshing arrangements. We gratefully acknowledge the support of Arts Nova Scotia for this project.