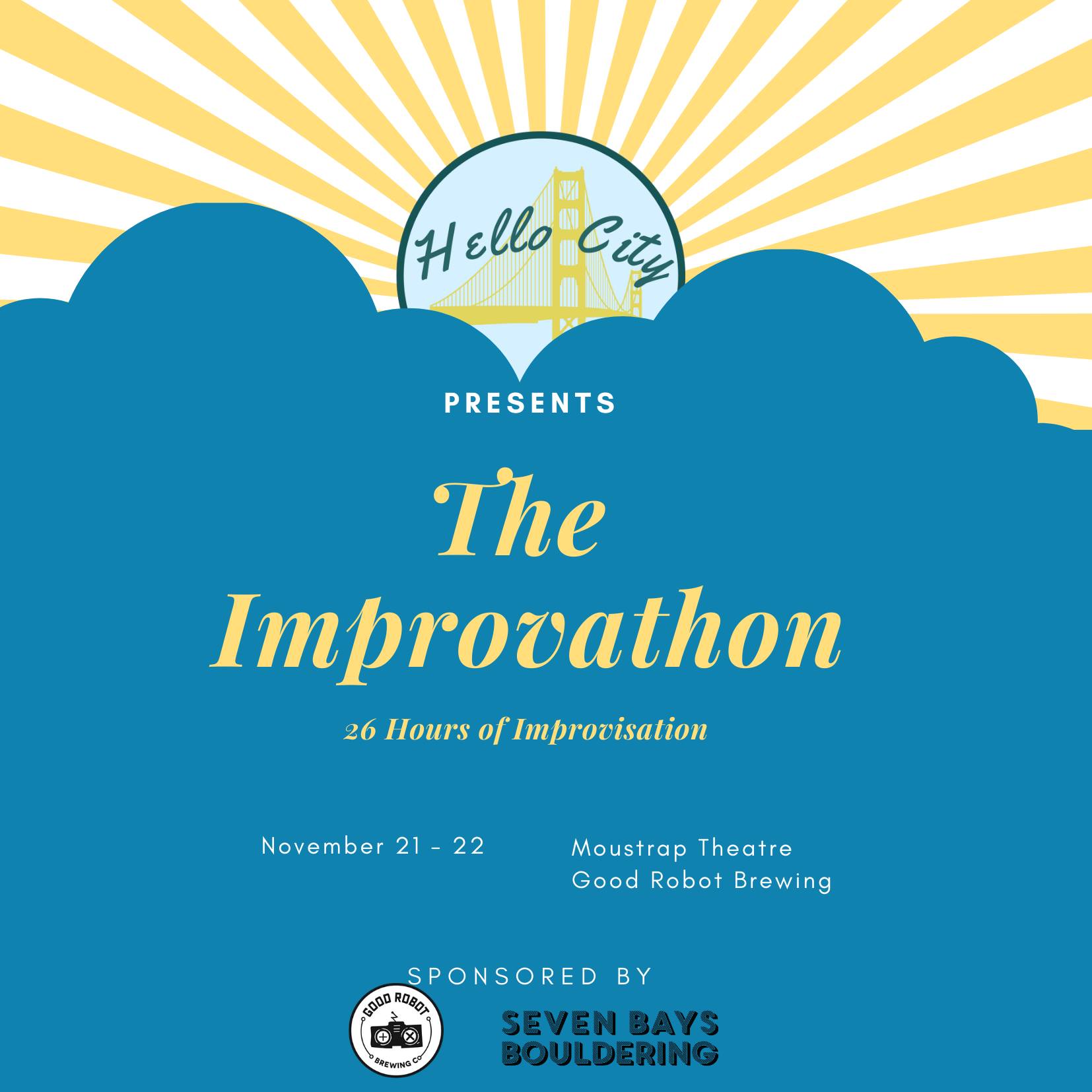 -POST PONED DUE TO COVID 19-Hello City presents the 26 Hour Improvathon - BRUNCH 1PM - 3PM
Yes, you read the event title correctly...
Hello City Presents 26 consecutive hours of improvisation!
Why would we do this to ourselves? Simple really. We love improv, and we think it's a good idea to make up for lost time.
This goliath of a show will have a bunch of cool events to check out including a Saturday evening kick-off (PWYC), Sunday morning brunch (PWYC), and The Final Countdown show at the 24-hour mark (Tickets available soon!) With the entire show being streamed online, and three opportunities to see it in person, there's no telling when the fun will stop!
Only 20 tickets available per show! Going down at Good Robot:

OPENING NIGHT
NOVEMBER 21ST - 7-9PM PWYC
NOVEMBER 21ST - 10-12PM PWYC

BRUNCH & IMPROV (Brunch not included in Ticket Price)
NOVEMBER 22ND - 10-12PM PWYC
NOVEMBER 22ND - 1-3PM PWYC

FINAL COUNTDOWN
NOVEMBER 22ND - 7-9PM $26

Can't make it in person? All 26hours will be live streamed 📺 so you can watch from the comfort of your own home 🍿

50% of all proceeds from the Improvathon will be going towards supporting the Mi'kmaq Fishers Asserting Treaty Rights and to Eastern Front Theatre!
We will be following COVID-19 Regulations with regulary sanitation and safety protocols. In order to safely distance, we will be limiting our audience to only twenty people.
Join the cast of Hello City both in-person at the Mousetrap Theatre and online for a ridiculous 26 hours of fun, fantasy, and fatigue.
Generously Sponsored by:
Good Robot Brewing Company
Seven Bays Bouldering