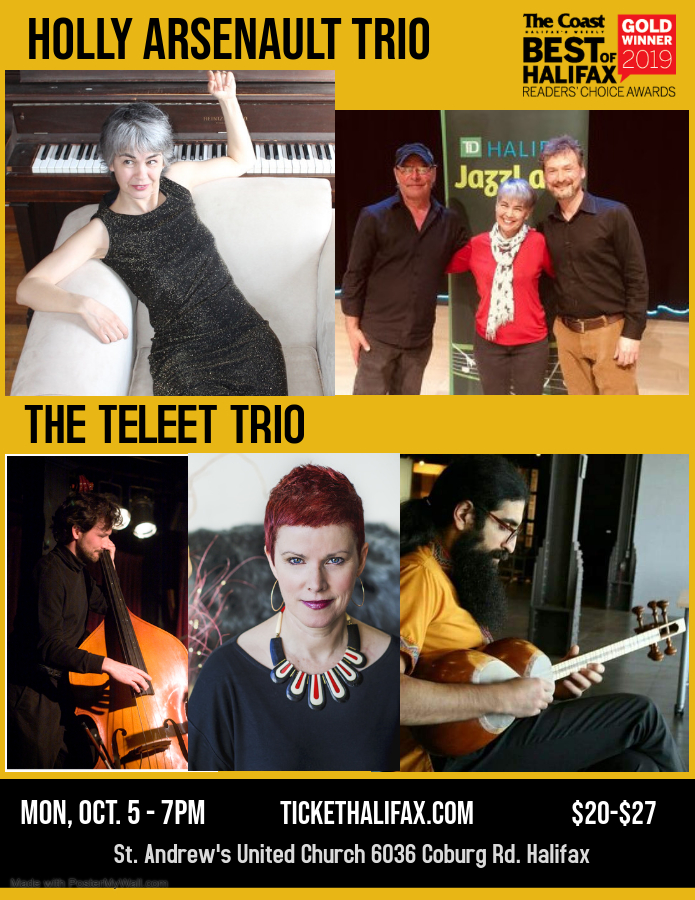 Holly Arsenault Trio & Teleet Trio
Purchase two or more lower level tickets and get a group discount:
Use the promo code GROUPS when buying two or more lower level tickets.
Here is your chance to experience award-winning musicians live. Two wonderful trios from Halifax performing a 75 minute live concert in a spacious, safe, physically-distanced atmosphere!
No intermission
Physically-distanced seating – including lower level and balcony
Contact tracing in effect
Masks required
Limited seats are available
HOLLY ARSENAULT TRIO
2019 Best Jazz Artist/Band (The Coast's Best of Halifax Readers' Choice Award)
The piano has been Holly's favourite toy since the ripe old age of 4 when she came upon the tired old upright at her grandmother's house in Cape Breton. In the years since, she has traveled the globe as a musician, music director, soloist and leader of her own trio. These days, Holly lives and plays in Halifax, Nova Scotia, with forays into the wider world as opportunities and adventures beckon.
Holly spent 16 years on Montreal's jazz scene before returning to Halifax. In the late nineties she studied with Kenny Werner, whose mindful approach to making music has served her ever since. She's worked as an arranger for such vocalists as Daniel Matto, Karen Myatt and Elizabeth Beeler, in addition to her leading her own projects.
Holly will be joined by bassist Chris Churchill and drummer Dave Burton.
Teleet Trio

Janice Jackson–singer
Chris Churchill – double bass, electric Bass
Mohammad Sahraei–tar, setar, kamancheh, rain stick, and hand drum
Turkish, Iranian, Appalachian Mountain, Bulgarian, Scottish folks songs mixed with ancient Swedish cattle calls played on a mix of western and Middle Eastern instruments. The Teleet Ensemble is an expression of the desire to reinterpret musical styles with exciting and surprisingly refreshing arrangements. In vernacular Farsi the word Teleet is used to imply a blend, mix, jumble, or a collage of different, even unlikely, ingredients. The word is borrowed from Persian cuisine. The Teleet Trio is the embodiment of programming music which is a collage of styles and innovative approaches to traditional music from diverse regions of the world. The instrumentation is also a mix of western instruments with those from the Middle East (specifically Iran and Turkey).
Biographies

Vocalist Janice Isabel Jackson has sung over 230 world premieres, many works written for her and performed with contemporary music ensembles and in concert halls around the world–Beijing, Paris, Vienna, Amsterdam, Hamburg, Torino, Toronto, Montreal, New York, Berlin, Johannesburg, Cape Town and more. She has appeared in countless contemporary music festivals including the November Festival (Ghent), Wien Modern (Vienna), Ludwigs Lust (Hamburg), The Proms (Amsterdam), IRCAM (Paris), Big Torino 2000 (Turin), the Diem Festival of Electro-acoustic music (Denmark), and the Scotia Festival of Music and Open Waters (Nova Scotia) and has sung with many orchestras throughout Europe and Canada. She is also the Artistic Director of the Halifax based contemporary vocal music society Vocalypse Productions. Recently she took part in French composer Patrick Defossez's multimedia project, CO2 Cycle de Lieder. As an improviser she has performed with Fred Frith (USA), Barry Guy (England), EtienneRolin (France), Michael Baird (Holland), and more.
https://janicejackson.ca/wordpress
Mohammad Sahraei graduated with his Masters of Ethnomusicology, and holds a Bachelor of Music, a Masters of Business Administration and a Bachelor of Accounting. His ethno-musicological work has taken him to many countries throughout the Middle East where he has mentored with instrumentalists and vocalists. Furthermore he has published several essays on this topic. He has participated in many musical and cultural events in Halifax such as OBEY Festival, Jazz Festival, Multicultural Festival and additionally produced International Music Concerts in Nova Scotia since 2017. He also has written music for silent films. Moreover, Mohammad is a music teacher, and has published his Nahavand Album in Iranian music and is the Executive Director of the World Music Museum Society in Halifax.
http://www.waltmusic.com/team-member/mohammad-sahraei/
Chris Churchill- Music has taken Chris to over 85 countries. He freelances regularly on double bass and electric bass. Chris has been active in the music industry as a bassist, producer, composer, arranger, orchestrator, and educator for over 25 years. He has worked with Grammy, Juno, and ECMA winners. He's led his own groups at music festivals and has performed on over 30 cruise ships. He has played for over 25 musical theater productions across Canada and had musical appearances on HBO, APTN, Eastlink and CTV television.