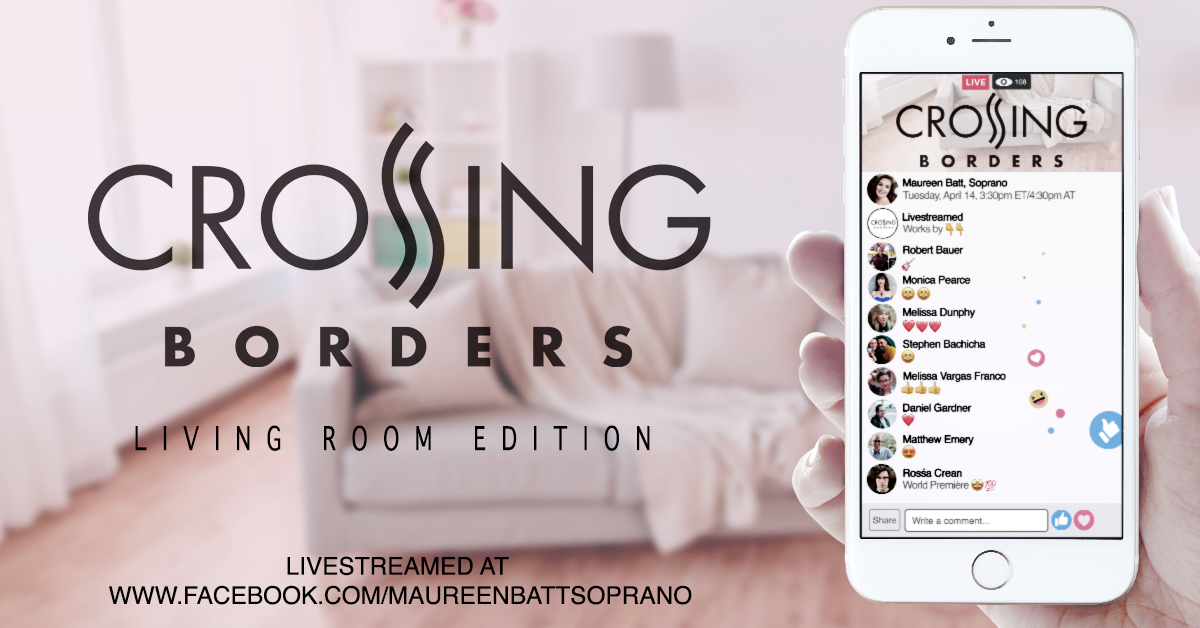 Maureen Batt sings
Crossing Borders: Living Room Edition
Tue, Apr 14, 2020 at 4:30pm (Atlantic)
Facebook Live Streaming
Crossing Borders: Living Room Edition

Just you, me, and your device :)



The program (in no particular order):

Girlfriends (Stephen Bachicha) for solo sop
June #2 (Melissa Dunphy) for looper pedal and sop
La Guardavoces (Melissa Vargas Franco) for solo sop
The Bliss of Fatigue (Monica Pearce*) for wine glass, toy piano, and sop
Ice Kaleidoscope (Bob Bauer*) for sop and electroacoustics
Quatrain (Daniel Gardner*) for sop and electronics
For broken and tired am I (Matthew Emery*) for soprano and piano (feat. Cheryl Duvall - Pianist on piano)
Nightingale Songs** (Rosśa Crean) for solo sop


*Canadian Composer
**World première

Program notes, song texts, and composer information will be emailed to you before the concert.



The concert is part of the recital series Crossing Borders, which puts Canadian music together and in dialogue with music from other countries. The series pushes geographical, musical, and metaphorical thresholds. This program includes works that have been on previous season's programs as well as a world première.

With sounds of ice crackling, to dreaming of blissful sun basking, to contemplating a blurred reality, this program of living classical contemporary composers explores themes of compassion, isolation, and joy.