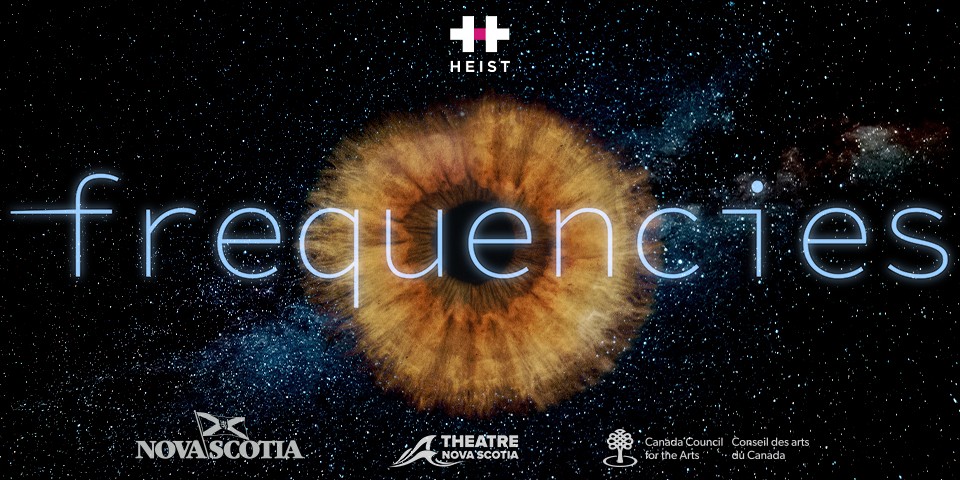 A Heist Production
Frequencies


by Aaron Collier, Stewart Legere & Francesca Ekwuyasi
Thurs, June 4 - Sun, June 7, 2020
Due to Covid-19, Heist has to delay the premiere of Frequencies by Aaron Collier, Stewart Legere and Francesca Ekuwaysi to a future date. We will keep you posted as to when and where as we determine those details.

All purchases for the original run (June 4- 7, 2020) will be honoured for the rescheduled dates. If those rescheduled dates turn out to not work for you, a full refund will be given at that time.

If you require a refund immediately, please contact us at liveheist <dot> tickets <at> gmail <dot> com
__
One part confessional, one part TED Talk style presentation, and one part techno-songwriter concert, this new production from the award-winning creators of The Princess Show, Princess Rules and New Waterford Boy: A Ceilidh is a multimedia storytelling show built around a techno album written by the show's star, Aaron Collier.
Inspired by an Albert Einstein quote - "All life is energy and that's all there is to it. Match the frequency of the reality you want and you cannot help but get that reality. It can be no other way. This is not philosphy, this is physics" - the production explores the stories, meanings, and inner workings of the music that underpins the performance. Through this journey, Collier invites the audience to discover his deeply personal revelations of acknowledging the grief and pain within his parents, brothers and himself, while celebrating the profound wonder and magic of real life around all around us.
"Frequencies is the most vulnerable and vital artistic endeavour I have undertaken. My story invovles confronting and accepting deep depression, and my journey through that has lead me to be here now creating this show and telling htis story. I believe that a basic question of purpose burns in all of us, and I hope that in telling this story that others who are searching for meaning in their lives might find inspiration to stop searching start making. In essence, I hope they are moved to prove Einstein's quote correct" - Aaron Collier
Aaron Collier was born in Prince Edward Island in 1981 and is an award-winning multi-talented musician, designer, actor, drag performer and digital media artist. His composition, sound and video design work has toured throughotu Canada, Ireland and the UK and he has 14 years of touring, recording and performance experience throughout the world with his previous bands The Jimmy Swift Band and Scientists of Sound. He's released two solo albums; Love (2008) and Neo (2009). He is the co-founder of Halifax-based live art company Heist and is the co-creator of their lauded productions The Princess Show, NATION, FACE and Princess Rules. He was the 2017/18 Designer in Residenc ewith 2b Theatre where he sound designed and co-composed the world premiere of their original work One Discordant Violin which played for four weeks Off Broadway in New York City in November 2019.

Celebrated director Ann-Marie Kerr (Daughter, The Secret Lives of Mothers) works with Collier on this intimate show featuring original music by Collier and writings by Stewart Legere, Francesca Ekwuyasi and Collier himself. Dramaturgy by Richie Wilcox and production management by Sylvia Bell.
HEIST is a live art company committed to creating, producing and presenting innovative, genre-bending and queerly playful performances in Halifax and beyond. An important element to our organization is having a clear and strong commitment to diversity within culture, abilities and gender.
HEIST is the brainchild and creative platform for Richie Wilcox and Aaron Collier. Together, the two partners-in-crime are responsible for the creation of many recent popular shows including The Princess Show, NATION, Princess Rules and New Waterford Boy. The company recently had the complete privilege of welcoming Sylvia Bell onto the team as Managing Director. This trio could not be happier.