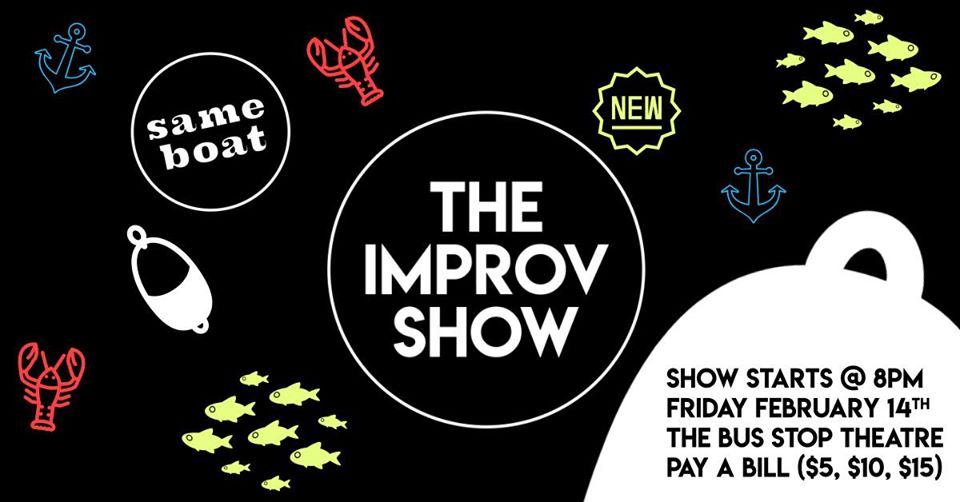 Same Boat: The Improv Show
Fri, Feb 14 from 8pm - 10pm
!! NEW SHOW ALERT Y'ALLLLL !!
!! SAME BOAT: THE IMPROV SHOW !!

HERE'S THE SCOOP: Same Boat has grown exponentially over the last 3-4 months! Slowly scoopin' up talent, plucking out pals, and growing into an 8 person COMEDY MASTERPIECE!!! (and yes we may be a POLLOCK)

YOU: Ok wow, cute, that's a nice sentiment, BUT WHAT IS THIS SHOW?!
US: WELL, its OUR NEW IMPROV SHOW!!

Dedicated to the art we all love, THE IMPROV SHOW, looks like this:

FIRST HALF // We'll be introducing our own FLAGSHIP format we've been practicing, formulating and imagining together! IT'S WILD!! IT'S FREAKY!! and most importantly IT'S UNIQUELY US!!

OH, and don't think we've forgotten about VALENTINES DAY!!

SECOND HALF // we'll be filling your ears full of sweet nuthin' with the debut of our IMPROV MACHINE (LUVERS EDITION)!! ft. some hawt special guests!

Make this ur D8 NIGHT!!
Everyone loves a good laugh!!

FRIDAY, FEBRUARY 14th, come on out to the Bus Stop Theatre (2203 Gottingen Street) for a night of IMPROV by Same Boat

THE CAST:
AMY MIELKE
BRODY WILKINSON-MARTIN
ERIK GARF
JONAH CAMPBELL
LAURA MILLER
MARIN CAREY
RYAN FLOYD
SARA GRAHAM

THE DEETZ:
DOORS // 7:30pm
SHOW // 8:00pm
PAY A BILL $5, $10, $20

* free admission if you come with a heart shaped box of chocolate or a rose
-——————————————————-
Same Boat acknowledges we are in Mi'kma'ki. The ancestral and unceeded territory of the Mi'kmaq people. We have been working and will continue to work to provide inclusive spaces for all treaty people in the comedy community as the first step of many to reconciliation. Thank you.