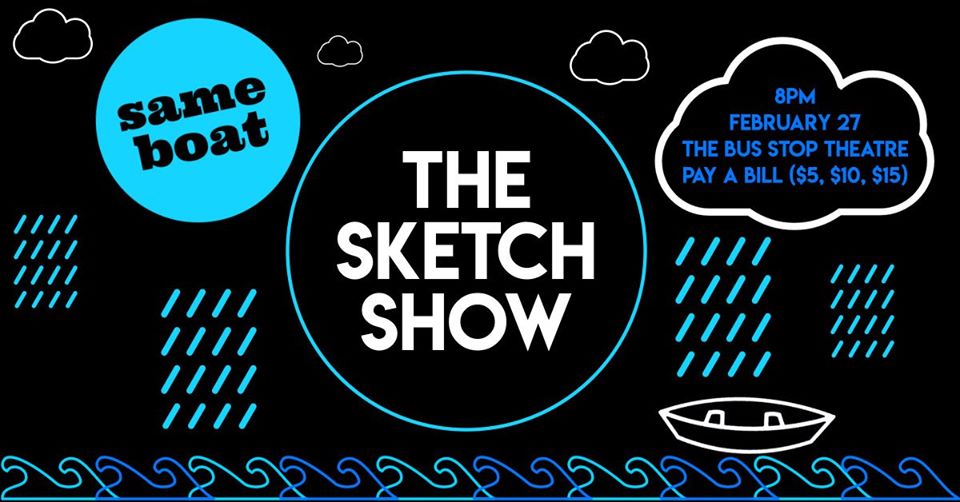 Same Boat: The Sketch Show
Thu, Feb 27 from 8pm - 10pm
!! SAME BOAT: THE SKETCH SHOW !!

HOW HAS IT BEEN A MONTH ALREADY?!?!
oh welllllllll.....
A new month means a BRAND NEW BATCH OF WILD 'n' FREAKY comedy from the Same Boat sketch crew!!

YOU: Can you tell me what I can expect?
US: no.
YOU: Does that make the show more exciting all around?
US: HELL YEA IT DOES!!
YOU: (trying again) But I really wanna know just a few things?
US: Ok wellllll -
1. Ryan and Amy are back for another edition of REAL FAKE NEWS
2. Someone will do some sort of food related comedy bit!
3. YOU'LL GET ONE OF THOSE NASTY BACK OF YOUR EYES HEADACHES FROM CHUCKLING WAYYY TOO HARD!!

IF ALL THIS ISN'T ENOUGH, I HEAR THE PRE-SHOW MUSIC IS LIT AS HELLLLLLL!!!!!!

SOOOOOOOOOOOOOOOOOOOOOOOOOOOOOOOOO........

FRIDAY, FEBRUARY 27th, come on out to the Bus Stop Theatre (2203 Gottingen Street) for a night of Sketch Comedy by Same Boat

FEATURING the comedic stylings of :
AMY MIELKE
BRODY WILKINSON-MARTIN
ERIK BARF
JONAH CAMPBELL
RYAN FLOYD
SARA GRAHAM

Tech as always by the fabulous ZACH GREENHAM

!! doors 7:30pm / show 8:00pm !!
!! PAY A BILL 5$, 10$, 20$ !!

*as always, free entry if you bring a pizza.
——————————————————-
Same Boat acknowledges we are in Mi'kma'ki. The ancestral and unceeded territory of the Mi'kmaq people. We have been working and will continue to work to provide inclusive spaces for all treaty people in the comedy community as the first step of many to reconciliation. Thank you.