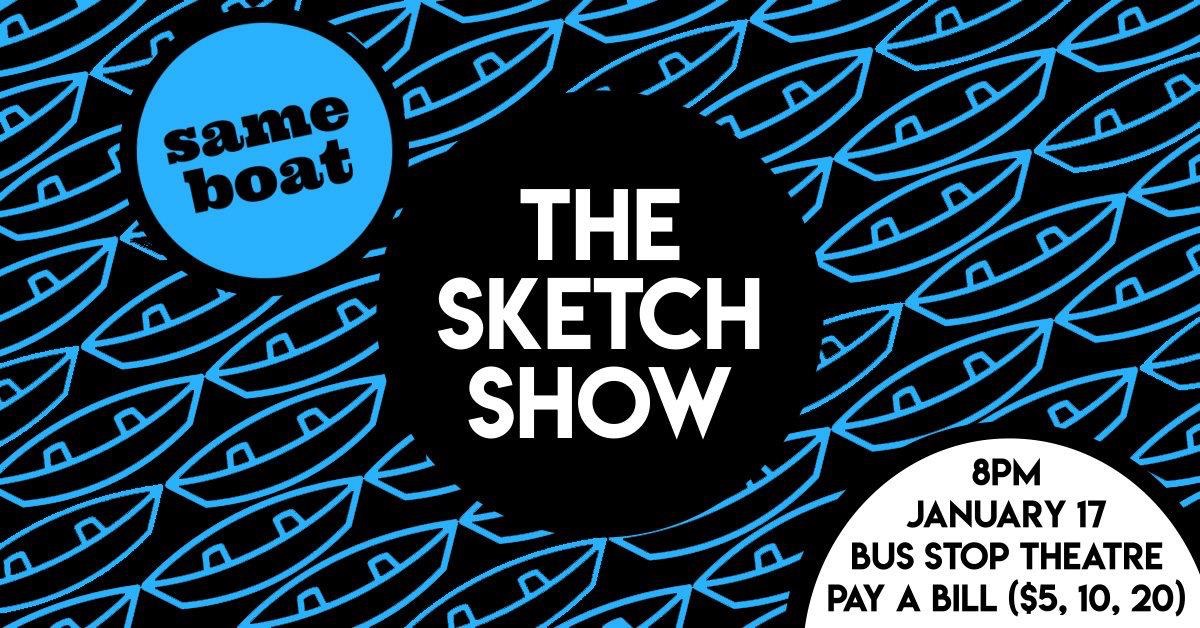 Same Boat: The Sketch Show
!! FIRST SKETCH SHOW OF THE NEW YEAR !!
It's FREAKIN' 2020, and the Same Boat Sketch Crew has one New Years Resolution, and one only: (in an muddy English accent) TO MAKE U LAFF !!
Well, that, AND TO INTRODUCE SOME COOL NEW CHANGES!!
THAT'S RIGHT!! You may not have noticed a change in the name, but this show is now and forever dedicated to strictly SKETCH COMEDY! (i mean tbh we forget lines all the time, so improv will be happening, we're only human)
EXCITED?! Good we are too! It's gonna be a hawt show with a ton of spicy new sketches, new show formatting, and we'll be introducing a brand new segment: REAL FAKE NEWS!! hosted by Same Boaters Amy Mielke and Ryan Floyd!!!
IF ALL THIS ISN'T ENOUGH, I HEAR Jonah Campbell WILL HAVE AT LEAST ONE SKETCH WHERE HE'S SHIRTLESS!!
SOOOOOOOOOOOOOOOOOOOOOOOOOOOOOOOOO........
FRIDAY, JANUARY 17th, come on out to the Bus Stop Theatre (2203 Gottingen Street) for a night of Sketch Comedy by Same Boat
FEATURING the comedic stylings of :
ERIK BARF
BRODY WILKINSON-MARTIN
SARA GRAHAM
JONAH CAMPBELL
RYAN FLOYD
AMY MIELKE
Tech as always by the fabulous ZACH GREENHAM
!! doors 7:30pm / show 8:00pm !!
!! PAY A BILL 5$, 10$, 20$ !!
*as always, free entry if you bring a pizza.
——————————————————-
Same Boat acknowledges we are in Mi'kma'ki. The ancestral and unceeded territory of the Mi'kmaq people. We have been working and will continue to work to provide inclusive spaces for all treaty people in the comedy community as the first step of many to reconciliation. Thank you.