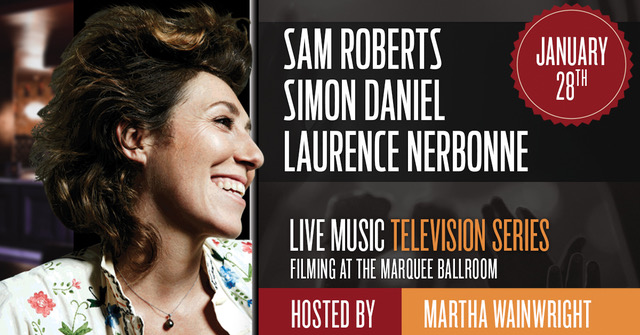 Mixsonore - Jan 28 - Sam Roberts & More
January 28th, 2020
Martha Wainwright hosts a new LIVE MUSIC TELEVISION SERIES filming in #Halifax's most iconic venue.
We invite you to join us for this intimate live music experience with Sam Roberts, Simon Daniel, Laurence Nerbonne and Martha Wainwrfight as she hosts the tapings of #MIXSONORE, the English and French variety show for #UNISTV.
Seating is limited, tickets are 10$ and all proceeds go to The Kate McGarrigle Fund
Get your tickets here: https://www.facebook.com/marqueeballroom/events
……
28 janvier 2020
Martha Wainwright anime une nouvelle SÉRIE DE TÉLÉVISION MUSICALE enregistrée dans le lieu le plus emblématique d'#Halifax.
Nous vous invitons à vous joindre à nous pour cette expérience intime de musique avec Sam Roberts, Simon Daniel, Laurence Nerbonne et Martha Wainwright alors qu'elle anime les enregistrements de #MIXSONORE, l'émission de variétés musicale bilingue pour #UNISTV.
Les places sont limitées, les billets sont à 10$ et tous les profits vont au Fonds Kate McGarrigle
Obtenez vos billets ici : https://www.facebook.com/marqueeballroom/events