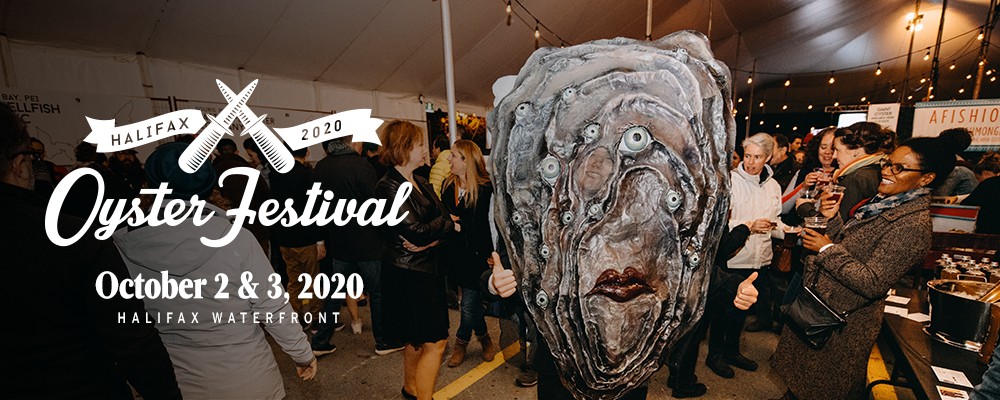 The Coast's 6th Annual
Halifax Oyster Festival [POSTPONED TO 2022]
3 sessions: Fri, Sept 30, 7-10pm, Sat, Oct 1, 12-3pm, 7-10pm
19+ after 7pm
allergy warning: shellfish on site
**UPDATE: POSTPONED TO 2022**
Well, shuck – what can we say…
It is with salty tears that we let you know that we have made the difficult decision to cancel Halifax Oyster Festival for 2020. As COVID-19 has moved through our province, country, world, at a rapid pace the unpredictable nature of what the fall may look like in terms of restrictions and guidelines around large gatherings as well as public safety for our farmers, staff, volunteers, suppliers and attendees is difficult to navigate. Oysters are a communal food, they are best enjoyed under a pearly white tent and paired with something bubbly (preferably, Nova Scotian) in large crowds with loud music and laughter but right now that just isn't possible.
In lieu of the festival and until we can hinge together again soon, we have partnered with Afishionado to bring you your very own oyster festival in a box! (link in bio)
The good thing is, oysters never stop growing so look forward to a bigger than ever Oyster Festival when it is safe for us to slurp! All pre-purchased tickets for our 2020 festival (including pre-purchased food and drink tickets) will be automatically valid for our 2022 event scheduled for Sept 30 & October 1 next year. By keeping the tickets intact it helps us pay for our ongoing operating costs like storage spaces and marketing we can't recoup. Should you require a refund you can reach out to Ticket Halifax (tickethalifax@thecoast.ca) who will process it asap.
"We will miss sharing the quintessential Nova Scotia experience with you at what is now Canada's largest oyster festival. But we will continue to embrace its spirit, and applaud the ingenuity (and humour) of the Oyster Fest team, by supporting the sea farmers and digging into these incredible local delicacies wherever we are this year. We're looking forward to once again sharing this special experience with you at the water's edge in Halifax next year, and to sharing your stories of oyster love," says Jennifer Angel, CEO, Develop Nova Scotia.
We greatly appreciate the support from all of you and hope to share in a shuck on the Halifax Harbour soon. Until then, keep so-shell distancing and we will sea you in 2022!
#hfxoysterfest
——
Halifax Oyster Festival, founded in 2015, is Canada's biggest raw bar, serving a near 65,000 oysters from Nova Scotia, PEI, New Brunswick, and guest oysters from around the world.
This unique event brings festival attendees closer than ever to the ocean by providing an all-you-can-slurp experience right here on the Halifax waterfront. Host of Nova Scotia's own Oyster Shucking Competition, Halifax Oyster Festival unites oyster lovers with oyster farmers and sparks bi-valve curiosity across all three festival sessions.
As always, the event is held rain or shine outside on the Halifax waterfront in early October. You should dress for the weather but you will be pretty cozy under the pearly white tent. You can also warm up next to your sweetie in our outdoor lounging area at on-site firepits.

More information at oysterfest.ca
Fri, Oct 1 from 7pm - 10pm
Sat, Oct 2 from 12pm - 3pm
Sat, Oct 2 from 7pm - 10pm