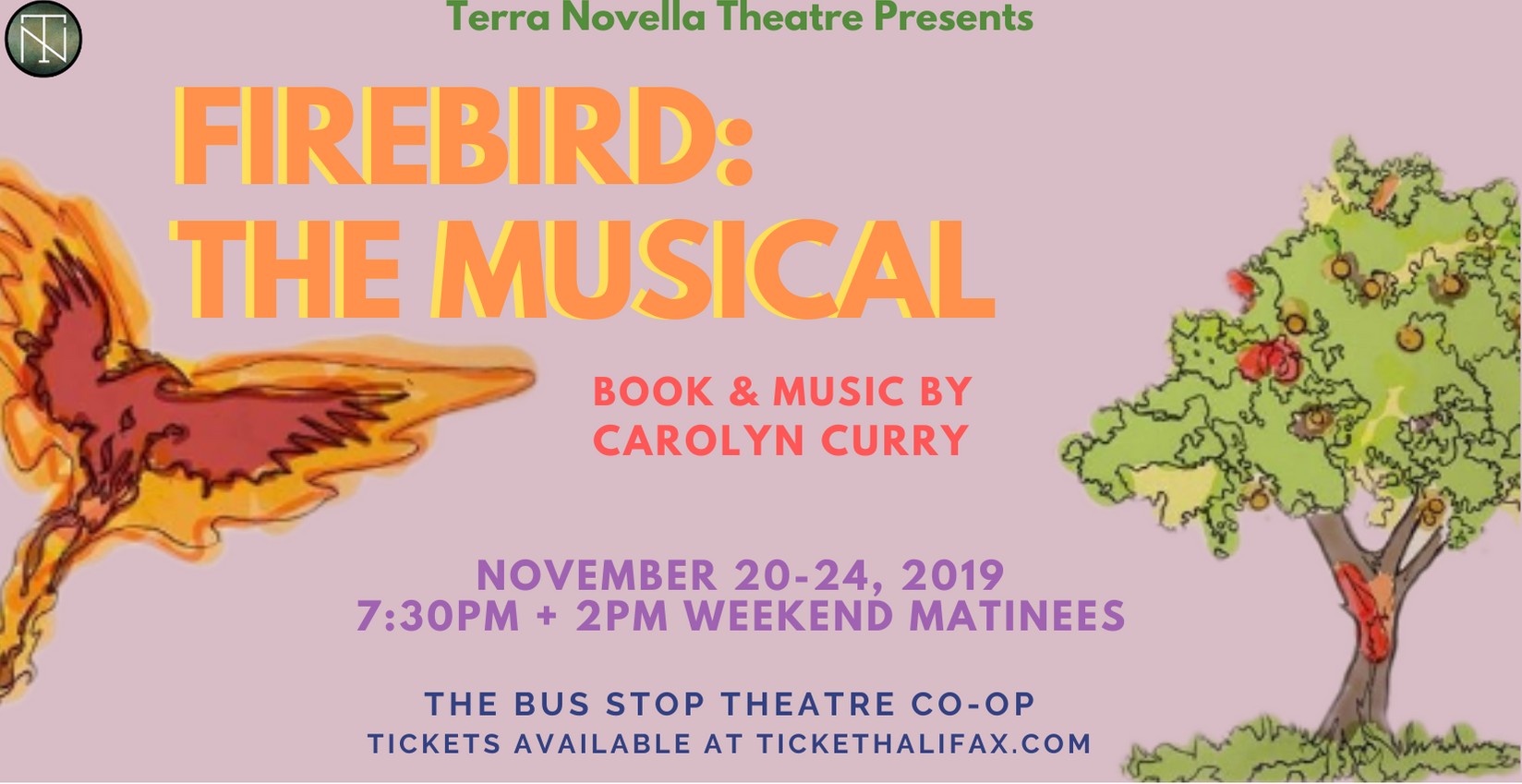 Terra Novella Theatre Presents
Firebird: The Musical
Wed, Nov 20, 2019 at 7:30pm - Sun, Nov 24, 2019 at 9:30pm
Based upon the Russian Folktale Tsar Ivan, the Grey Wolf and the Firebird, Terra Novella Theatre Presents an all new, original musical, Firebird: The Musical with Music and Book by Carolyn Curry.
After the mystical Firebird steals a Golden Apple from the Tsar's orchard, the Tsar sends his three children, Violet, Dmitri and Ivy, to capture the bird in exchange for half his lands. While Violet and Dmitri try to take the easy route, Ivy's path takes her on a magical journey through many Tsardoms leading to fantastic treasures, dark twists, and unlikely companions.
This all new musical is filled from top to bottom with adventure, comedy, stunning harmonies, shadow puppets, wooden swords, one VERY good horse, and a whole lot of magic.
Tickets:
Advance Tickets: General $25/Underwaged* $15
At The Door: General $30/Underwaged* $20
*Underwaged tickets include students/seniors/artists or anyone who can't pay full price*
Performances:
Wed Nov. 20 - PWYC Preview Performance 7:30-9:30pm
Thurs Nov. 21 - Opening Night 7:30-9:30pm
Fri Nov. 22 - 7:30-9:30pm
Sat Nov. 23 - Matinee 2-4pm
Sat Nov. 23 - 7:30-9:30pm
Sun Nov. 24 - Matinee 2-4pm
Sun Nov. 24 - Closing Night 7:30-9:30pm
Featuring:
Chris Bolton as Crow
Mike Chandler* as Tsar Vyslav
Sara Courtney as Scribe
Nick Cox as Dmitri
Tamara Liayn Walsh* as Violet
Raphael Glazov as Handsome Harold
Stephanie Mah as Ivy
Cat McCluskey as Wolf
Jessica Oliver as Jackdaw
Sarah Smith as Firebird
*These artists appear courtesy of the Canadian Actors Equity Association.
Music, Lyrics and Book by Carolyn Curry
Directed and Choreographed by Tyler Craig
Assistant Direction by Celia J Rossiter
Dramaturgy by Amanda Mullally
Stage Management, Set Design, Puppet Design, Fight Choreo by Audrey Eastwood
Lighting Design and Sound Design by Nick Cox
Costume Design by Jessica Oliver
* Please note this production contains violence, musical numbers and a very VERY good horse (or wolf)*