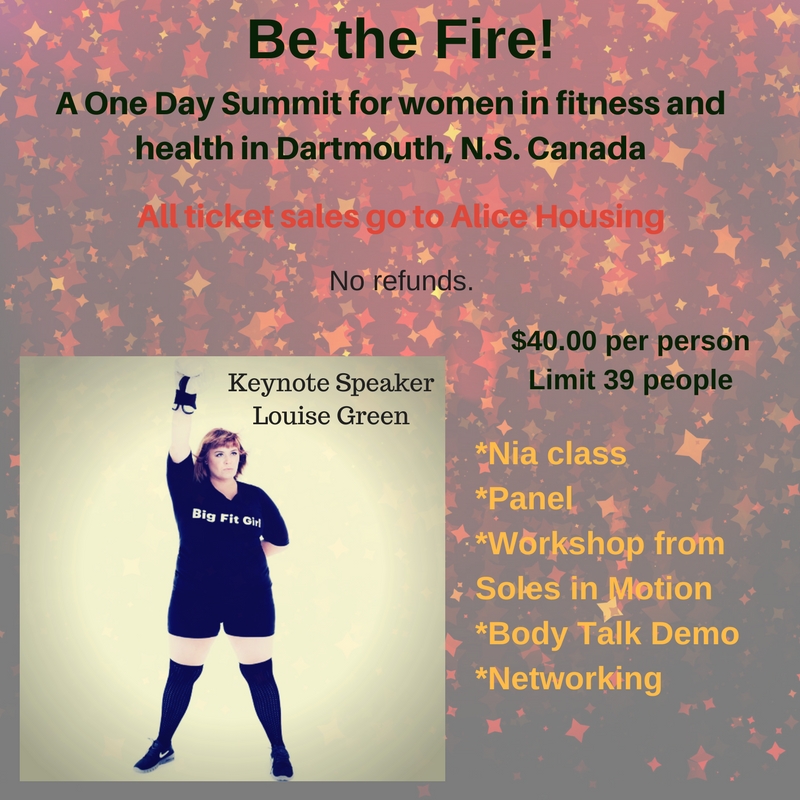 Be the Fire! One Day Summit for Women only
Sat, Sep 9 from 10am - 5pm (Atlantic)
$50.29

with fees and taxes
All ticket sales go to Alice Housing. No refunds.
Be the Fire is featuring Keynote Speaker and Fitness Professional Louise Green, Author of Big Fit Girl.
The day starts with Nia by Amy Marshall and then we listen to Louise Green share her story of challenges and successes.
There's a panel discussion with women fitness professionals, a workshop by Soles in Motion and a session by a Body Talk Practicioner.
There's time for networking and perusing two vendor tables. We're giving away a registration to Activate Her Awesome Retreat (October 24th-27th, 2017 location TBA). https://activateherawesome.ca/
Produced by Tara MacDonald Fit Club, Inc. Brought to you by Encompass Coaching, Liz Burton Health & Fitness. Sponsors GroPro.ca, Sage & Sweetgrass Salon, One Call Paving Ltd., and Soles in Motion.